When in Rome. A Polyphonic Site-Intervention in the World's Smallest Capital City

KHALED BARAKEH, BENEDIKTE BJERRE, ELISA CALDANA, OSCAR CARLSON, ANN CATHRIN NOVEMBER HØIBO, RASMUS JOHANNSEN, VYTAUTAS JUREVICIUS, PATRICK KEAVENY, AKI NAGASAKA, THUY-HAN NGUYEN-CHI, FILIPPA-LINN PETTERSSON, BETO SHAWAFATY, JOHN SKOOG, SIMON STARLING, FRANZISKA VON STENGLIN, JOL THOMSON
Curated by Simon Starling Filmed in various locations, Valletta. Malta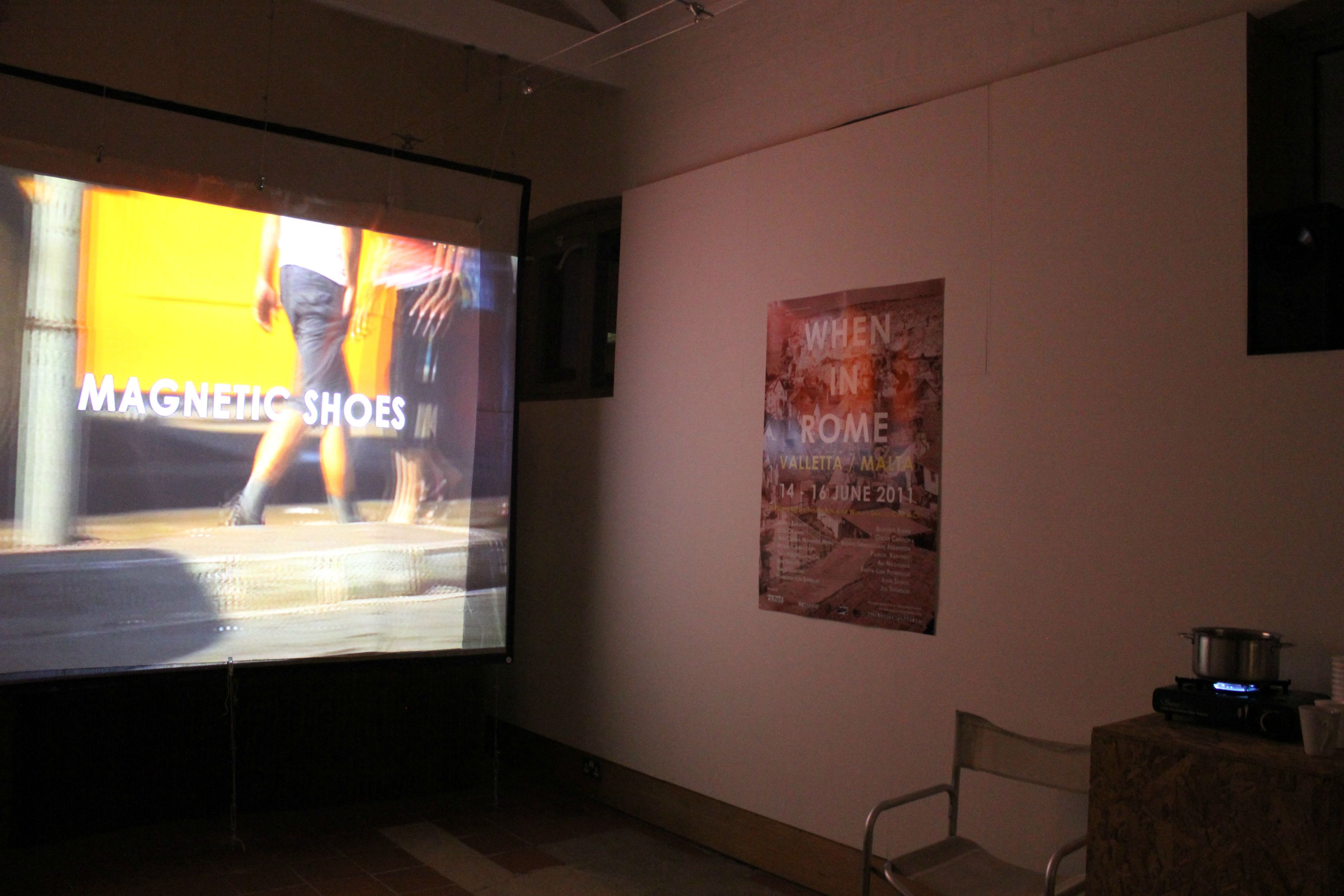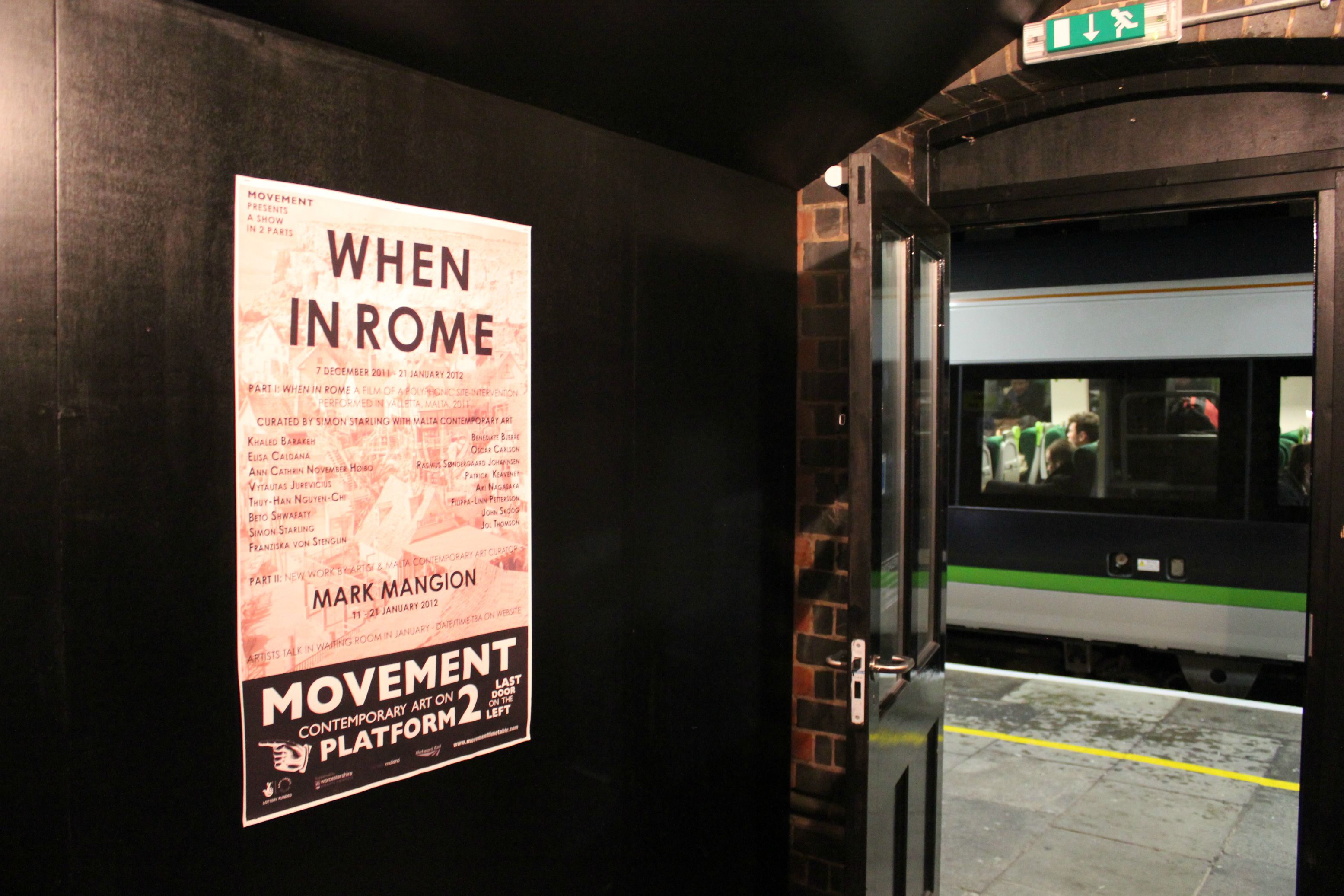 For its last show in Malta before starting a series of international projects, Malta Contemporary Art Foundation presented a collaborative project between British artist Simon Starling and 15 artists from Städelschule, Frankfurt.
Following a visit to Malta in January 2011, an international group of young artists studying at the Städelschule, Frankfurt with the British artist Simon Starling,  developed a collaborative project with the roving arts organisation Malta Contemporary Art Fondation which was later premiered in the UK at MOVEMENT
When In Rome was developed in relation to the complexity of Malta's history, to it's life as a tourist destination, to it's current role as a set for a diverse range of film productions and further still, as a staging post for political and military responses to conflict ridden countries in neighbouring North Africa.
Realised in Valletta, the world's smallest capital city, When In Rome, took the form of a 3-day-long series of simultaneously performed actions that served to map the city's streets in different ways. Each of these actions was an re-enactment of a work made by another artist in a specific situation somewhere in the world over the last 40 years. When performed simultaneously, overlaid within the confines of Valletta's city walls, these re-enactments added to this already complex place to create a cacophonic site – a layered and complex space within which to consider a contemporary understanding of what might constitute the very notion of a place.
Centred around the work of the Mexican-based, Belgian artist Francis Alÿs – whose 1:1 mapping of cities – often taking the form of low-key walks made with simple tools such as a block of ice, a leaking paint tin or a knotted flag – has come to represent an almost generic artistic response to urban space, When In Rome  furthermore included a carefully chosen selection of related actions by artists such as Gabriel Orozco and David Hammons.
At any given moment during its duration, one might simultaneously encounter a displaced Coldstream Guardsman, a musician in search of the other half of their instrument, a sweater unravelling behind its owner, the sound of a tin can being kicked through the city and a painting on the move.
The Städelschule has become one of the most important and international art academies in the world led by world renowned arts practitioners the likes of Nikolaus Hirsch, Daniel Birnbaum, Douglas Gordon, Judith Hopf, Tobias Rehberger, Simon Starling, Willem De Rooij and others.
Simon Starling was born in 1967 in Epsom, Surrey.
He attended Glasgow School of Art from 1990 to 1992.
From 1993 to 1996 he was a committee member of Transmission Gallery, Glasgow. He was the first recipient of the Blinky Palermo Grant in 1999 and in 2005 won the Turner Prize. He has exhibited extensively around the world including a recent solo show at Tate.