To celebrate ten years since we opened to the public, during October 2020 MOVEMENT present a series of rail-context specific work throughout the month.
Highlighting so far, a new series of works on paper by Glasgow based artist Ally Wallace:
Railway Drawings: Ally Wallace
MOVEMENT is delighted to introduce a selection of 43 drawings produced between 2019-2020. that document a series of rail journeys undertaken by the artist
"Over the years I've always carried a sketchbook with me on trips away – recording all kinds of things, although mainly architecture, in which I have an ongoing interest and which informs much of my work.
For these railway drawings I like the way that, under pressure of time, I'm forced to make very quick decisions about what elements will be included in the drawing. So far it's always been the architecture that I'm interested in – although sometimes the train stops at a point in the station where no architecture is visible
and I have to sketch trees or things that I can see outside the station, or sometimes another train is blocking the view so I sketch it.
During the past year I've recorded several other UK and continental rail trips in the same way. I now do the same thing on most rail journeys that I make, although I've missed out a few through being ill-prepared. I'm pretty set on doing it all the time from now on – just have to make sure I always have that sketchbook and pen with me."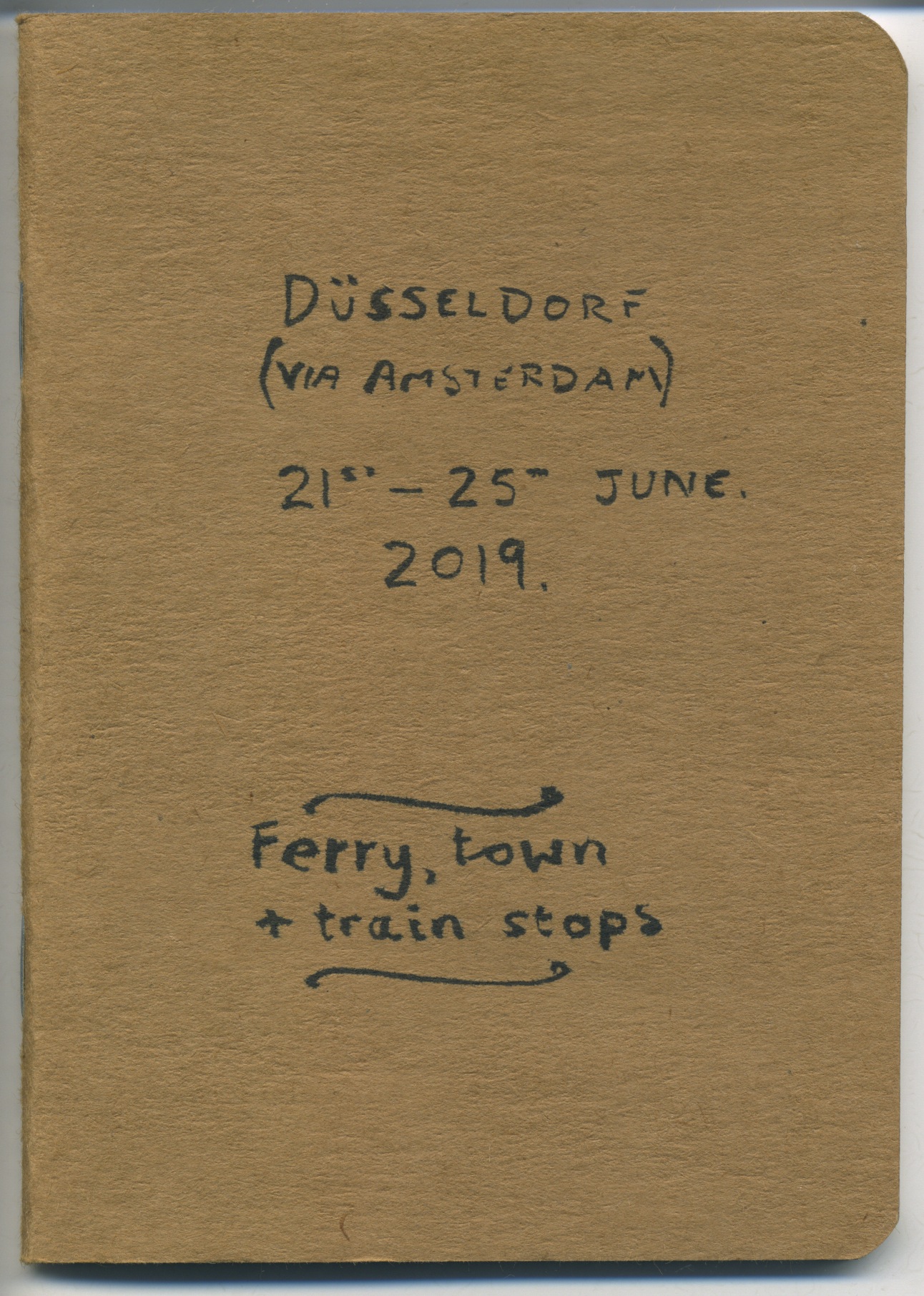 Journey 1: North Shields – Düsseldorf
Friday 21.6.19
Ferry from North Shields to Ijmuiden.
Sat 22.6.19
Bus from Ijmuiden to Amsterdam.
Train from Amsterdam to Dusseldorf.
Notes: "I already had an A6 sketch pad and ink brush pen with me, mainly to sketch architecture during the stay in Dusseldorf  – where I was going to attend the preview of a show that I had work in.
As the train pulled out of Amsterdam Centraal I suddenly had the idea to do a very quick sketch of each station stop en route to Dusseldorf, only drawing from my seat while the train was at a complete standstill.  I thought that this might be an interesting way of doing very simple studies – mainly of station architecture – having a time-limit rule to stick to, which would force me to make instant decisions on what to include in the sketch.  I ran out of pages before reaching the destination.
The first two pages aren't of the rail journey – one is a view of South Shields, looking from the deck of the ferry, and the other is a general view of Amsterdam, done on the way to the railway station – still part of the same journey though.  The first of the rail drawings is 'Emmerich'.
This was the first time that I'd done this kind of speedy recording of railway architecture and was where the idea germinated for similarly recording future journeys by train."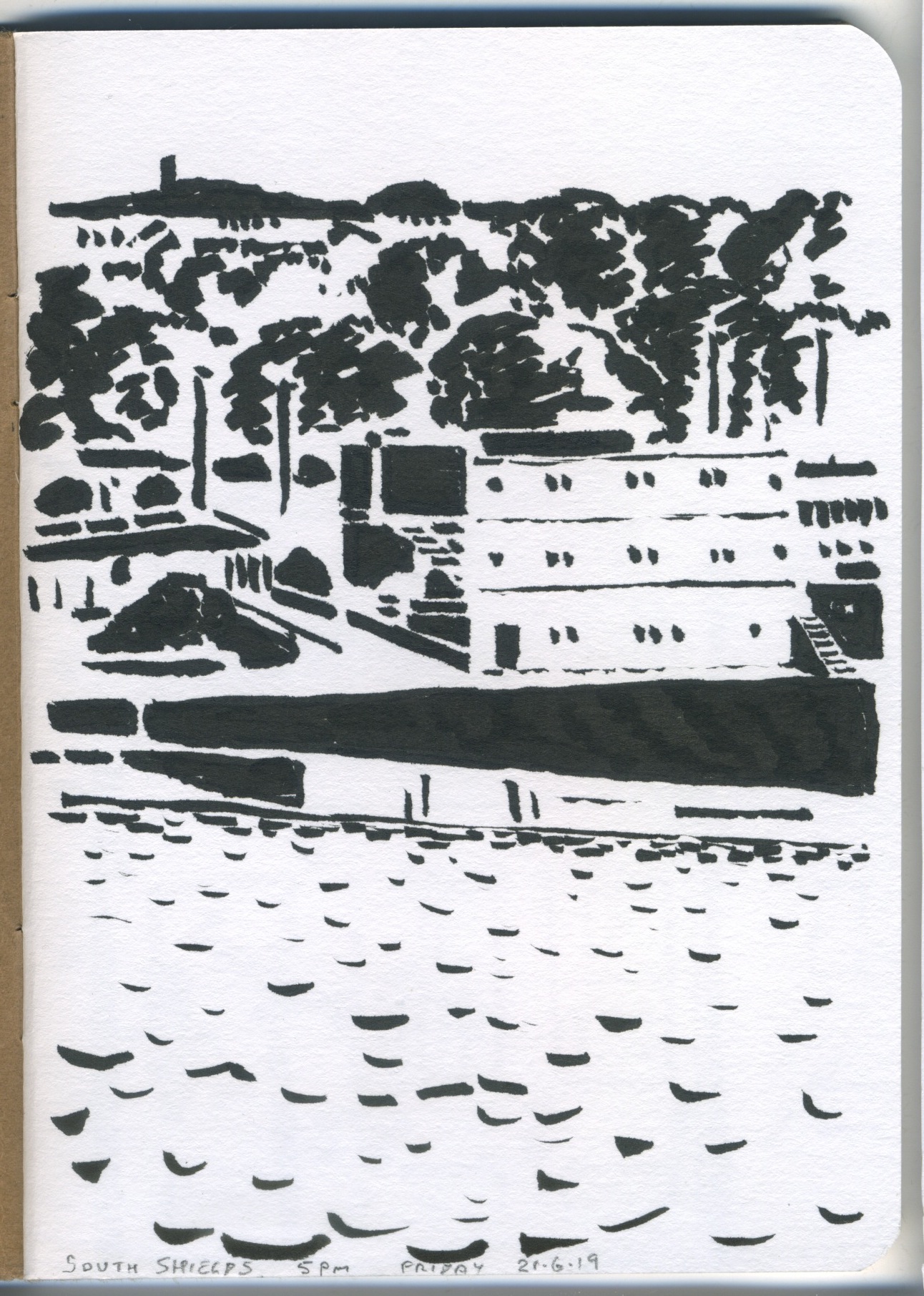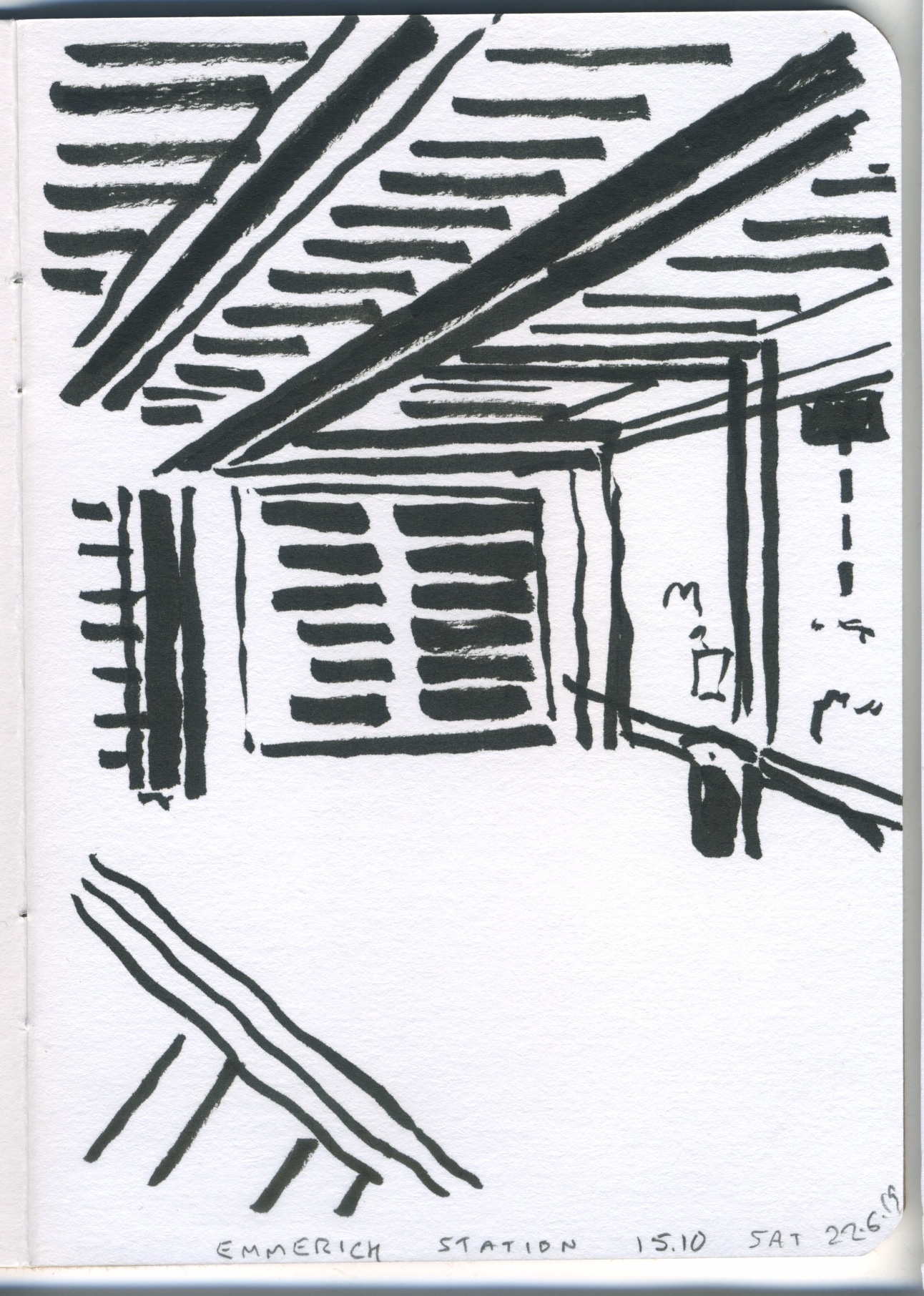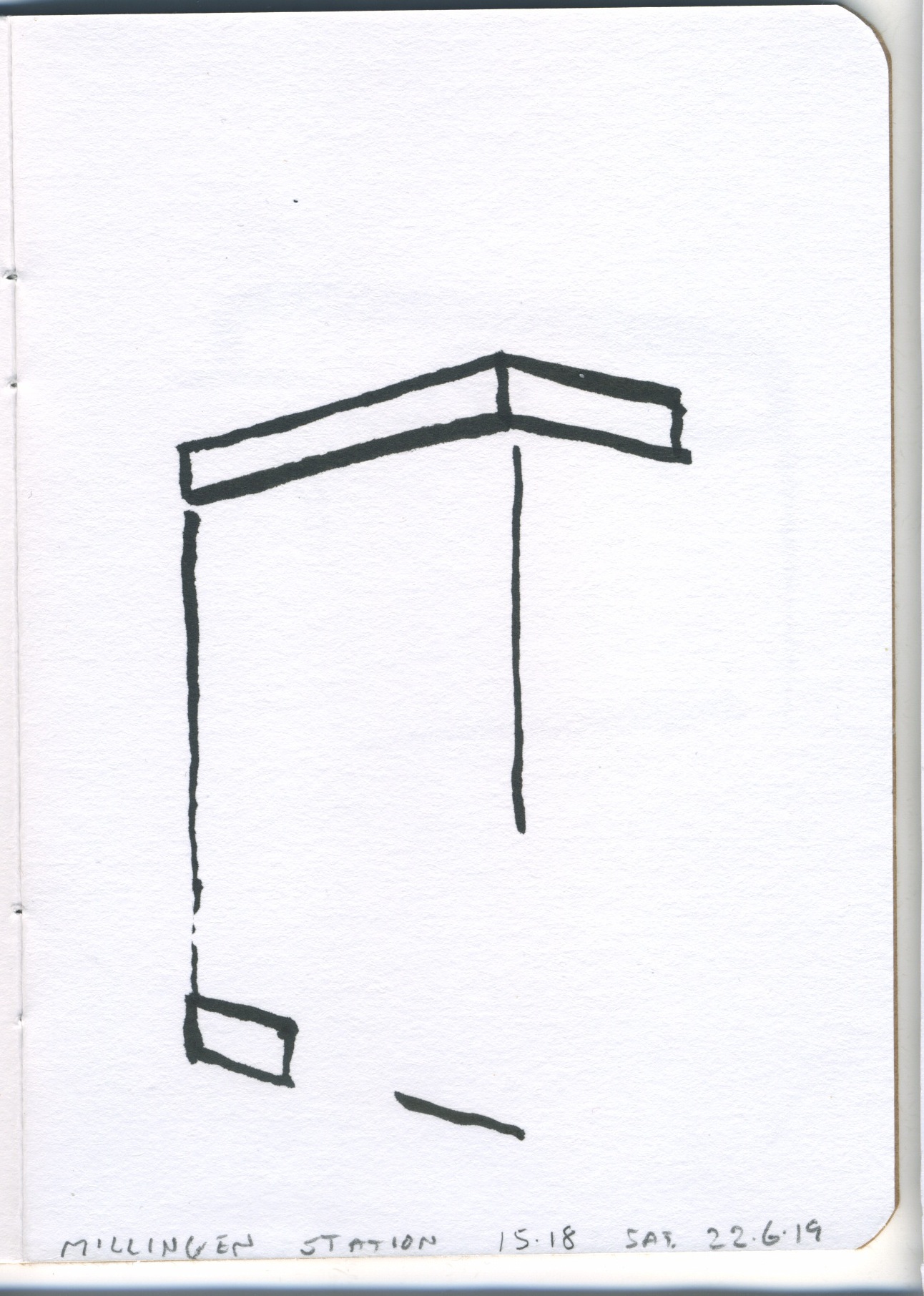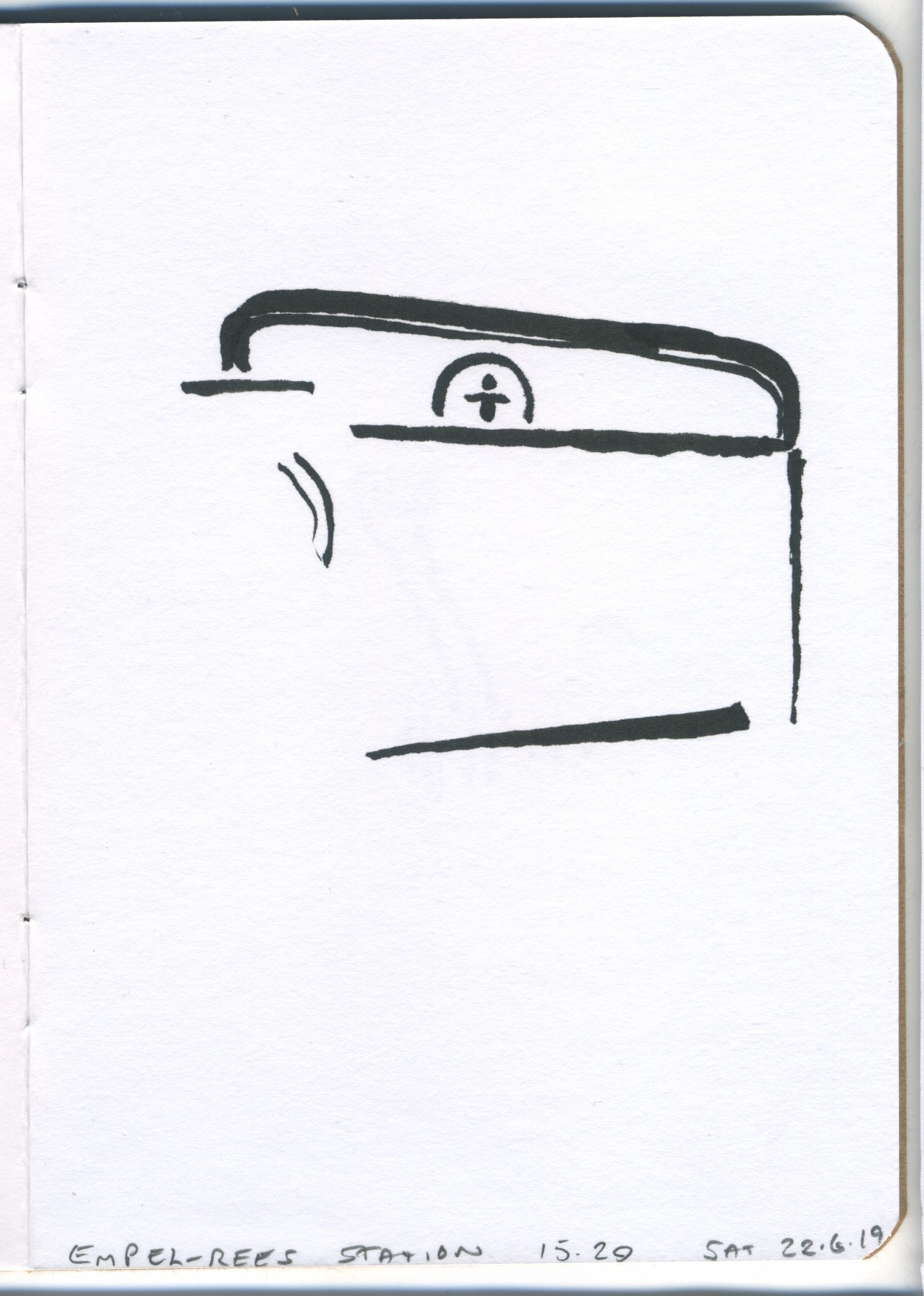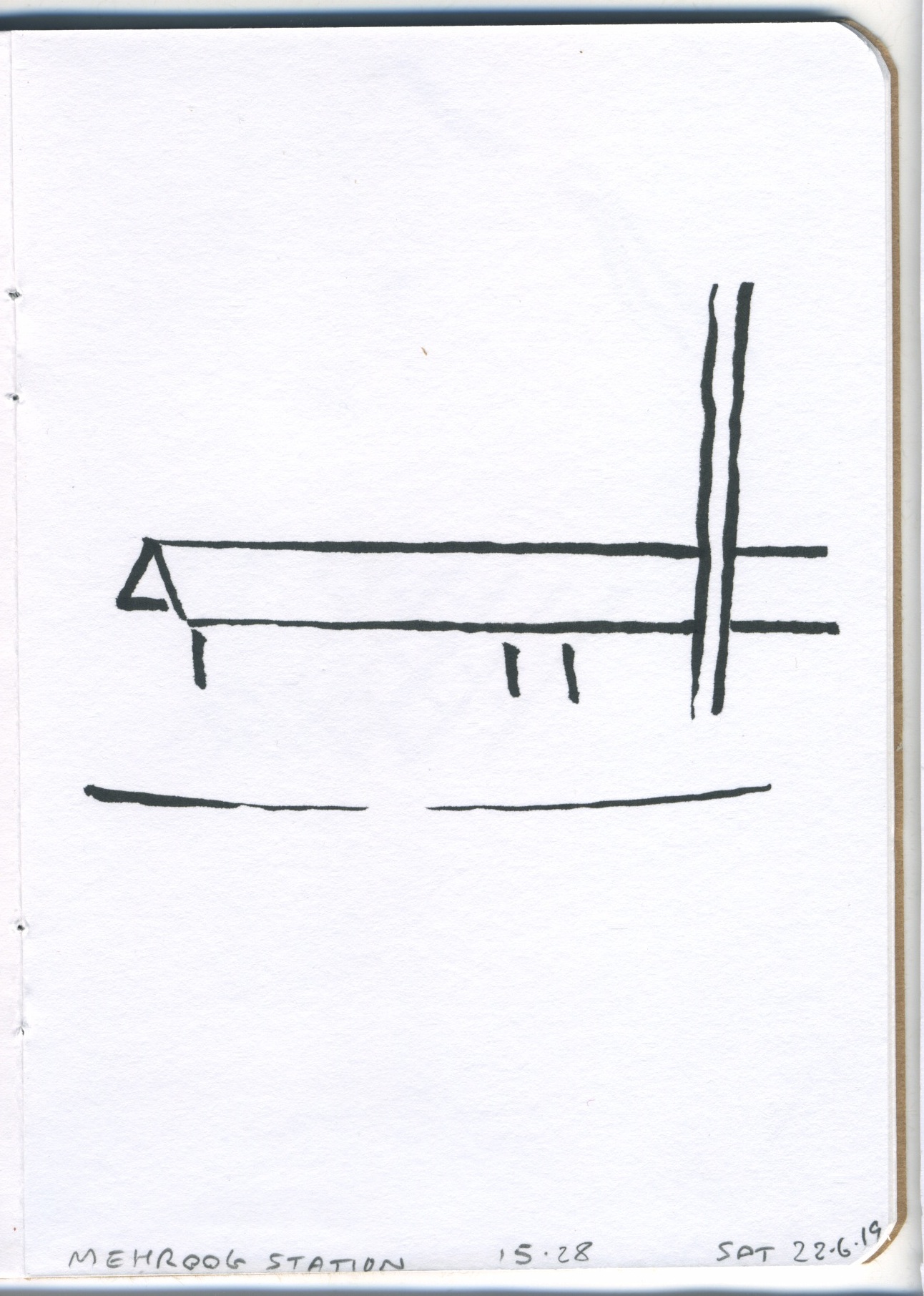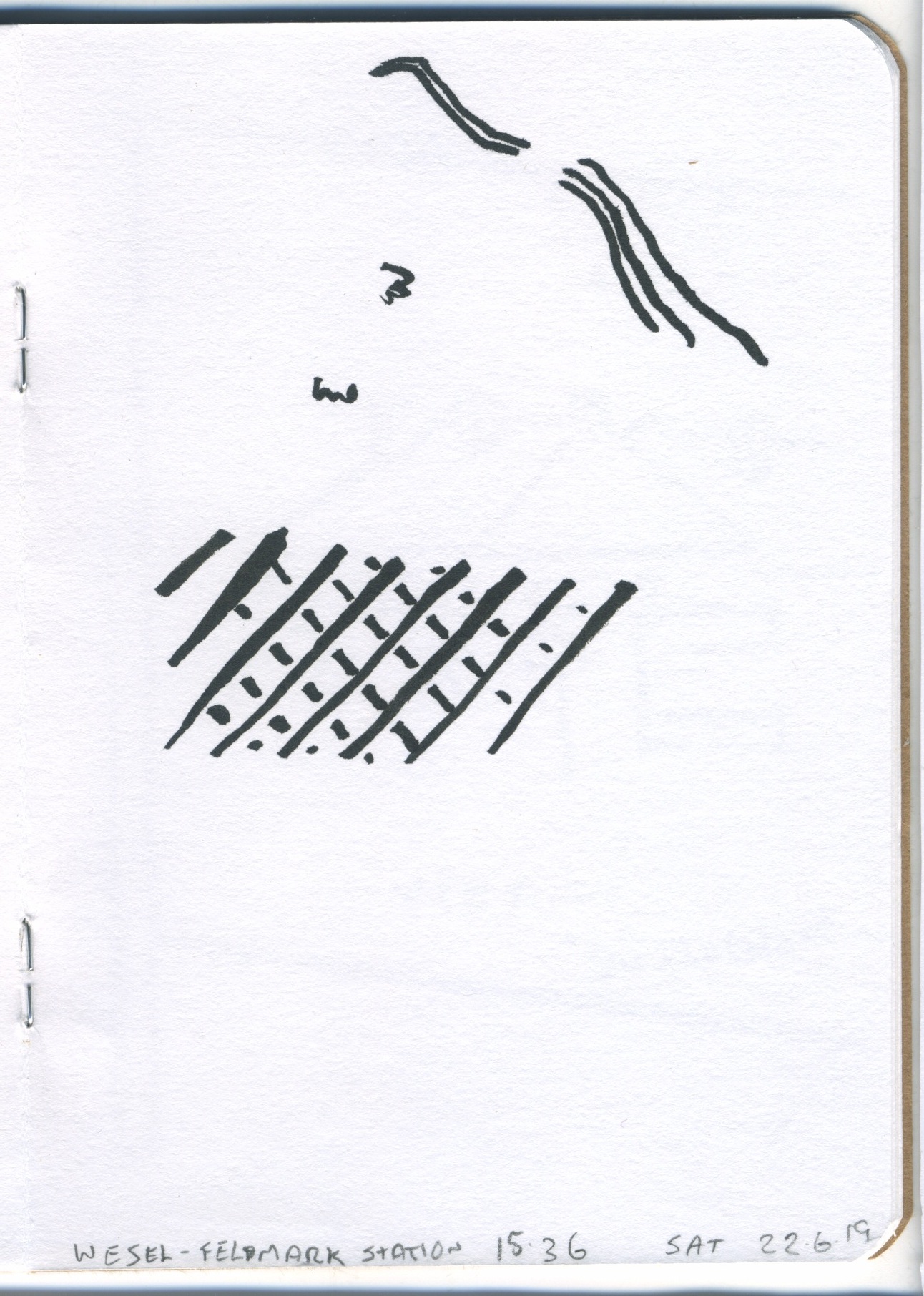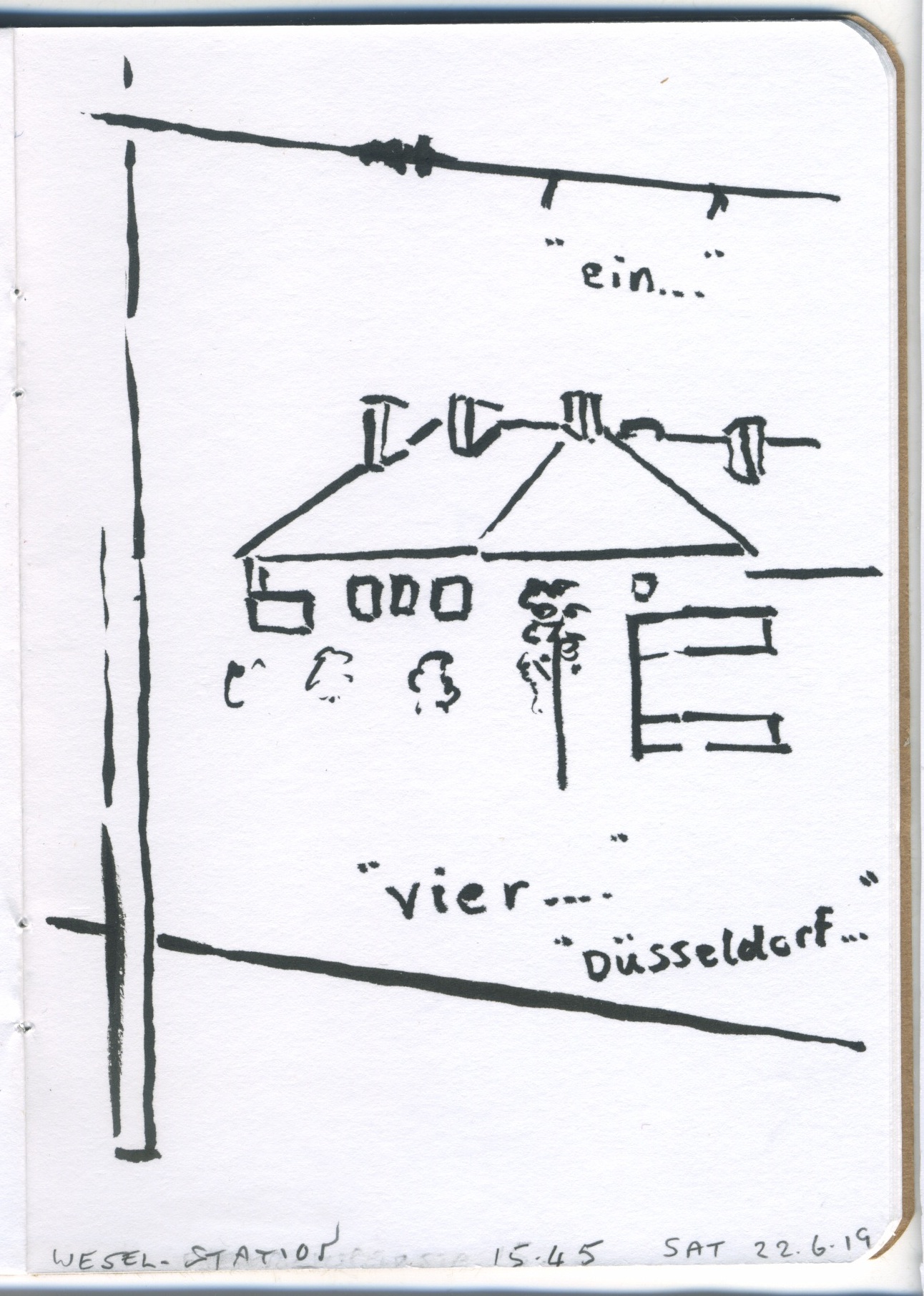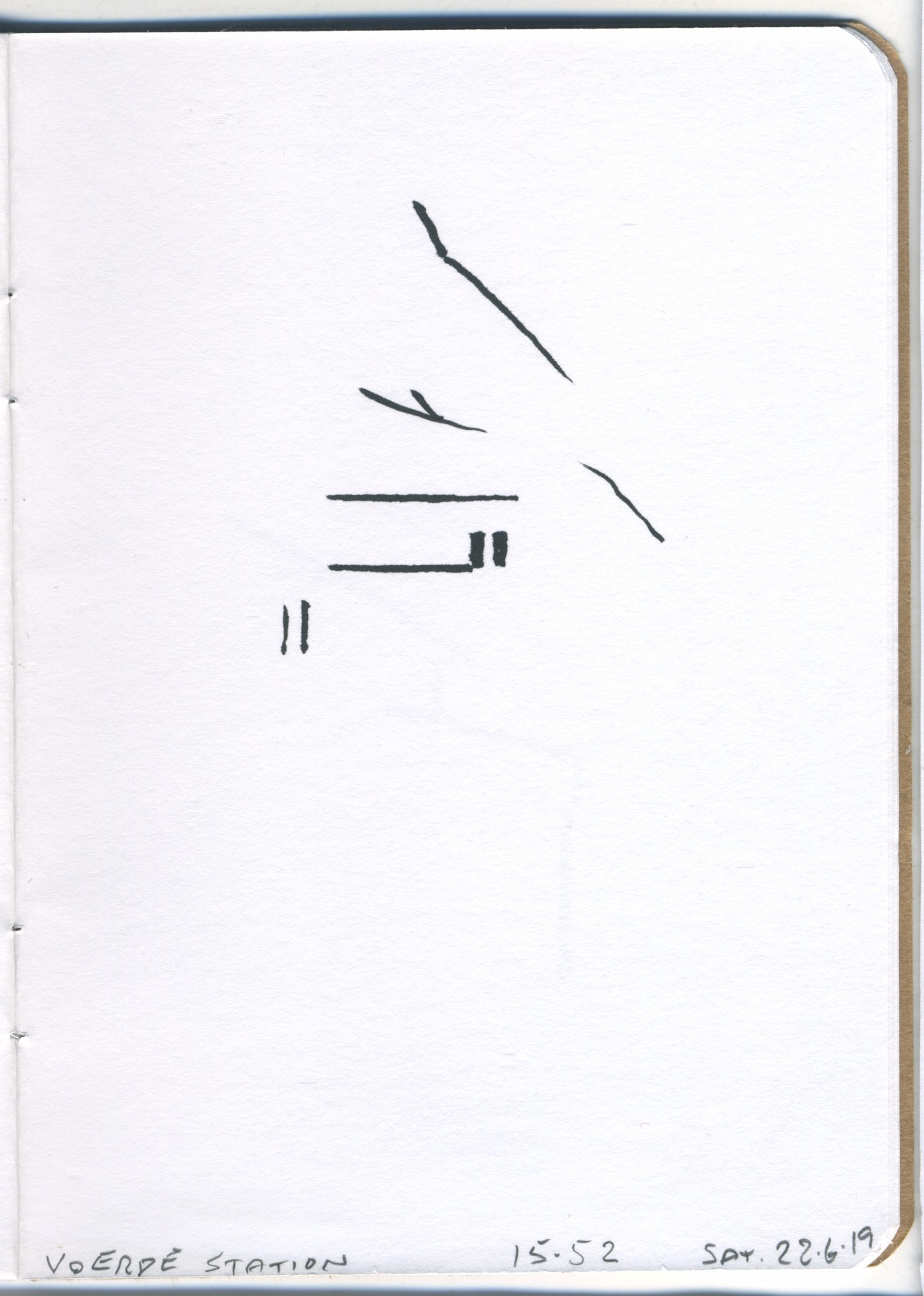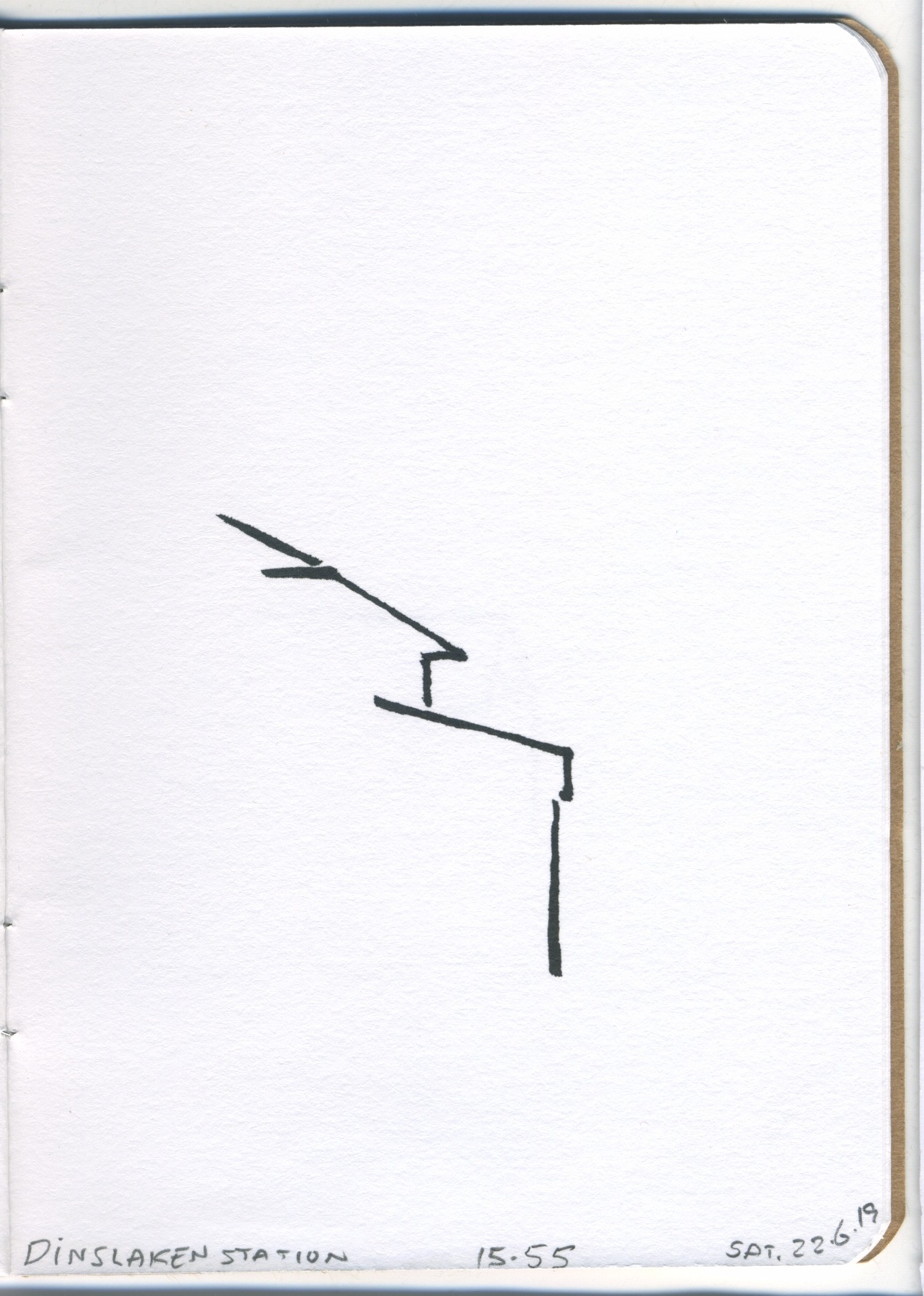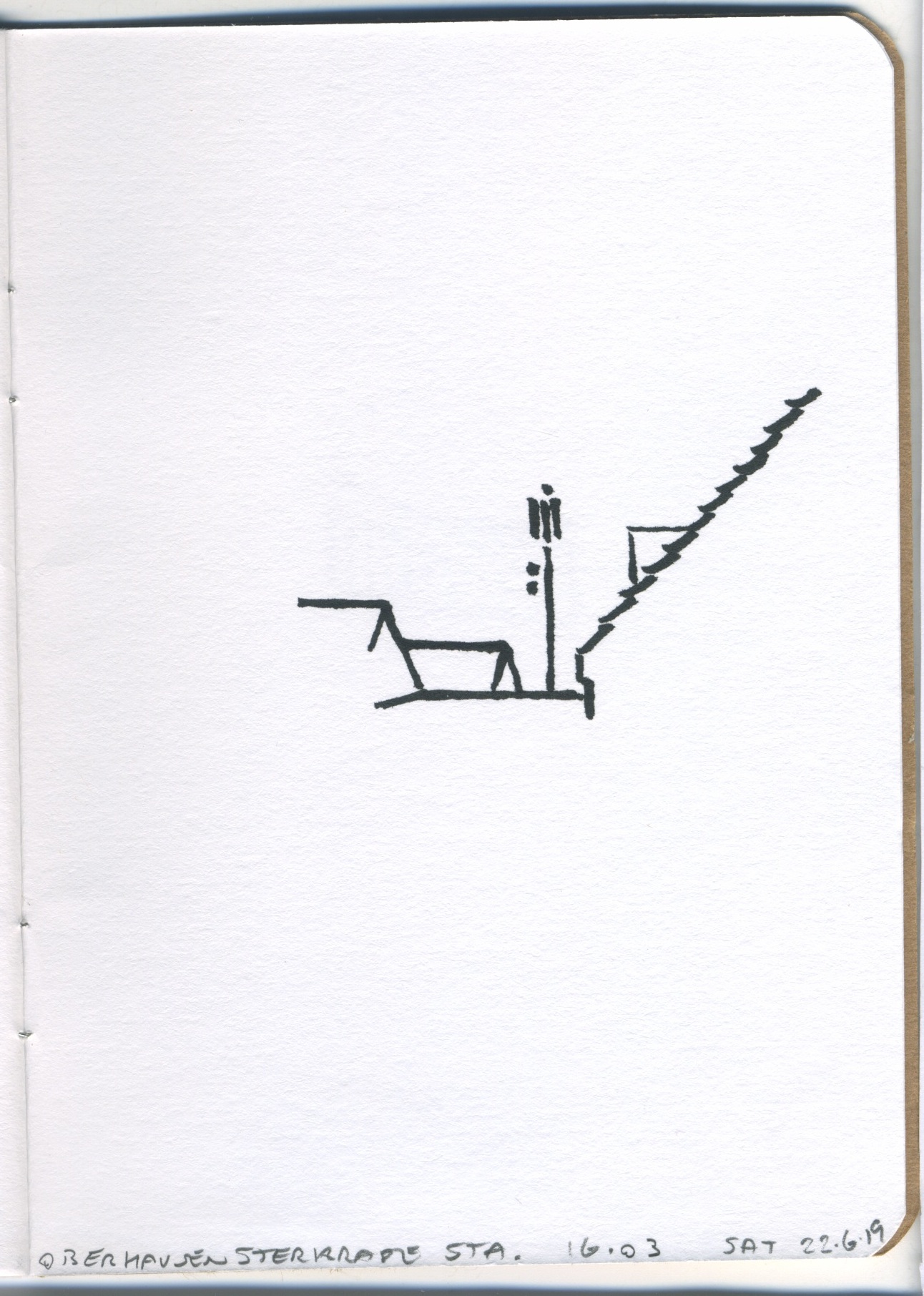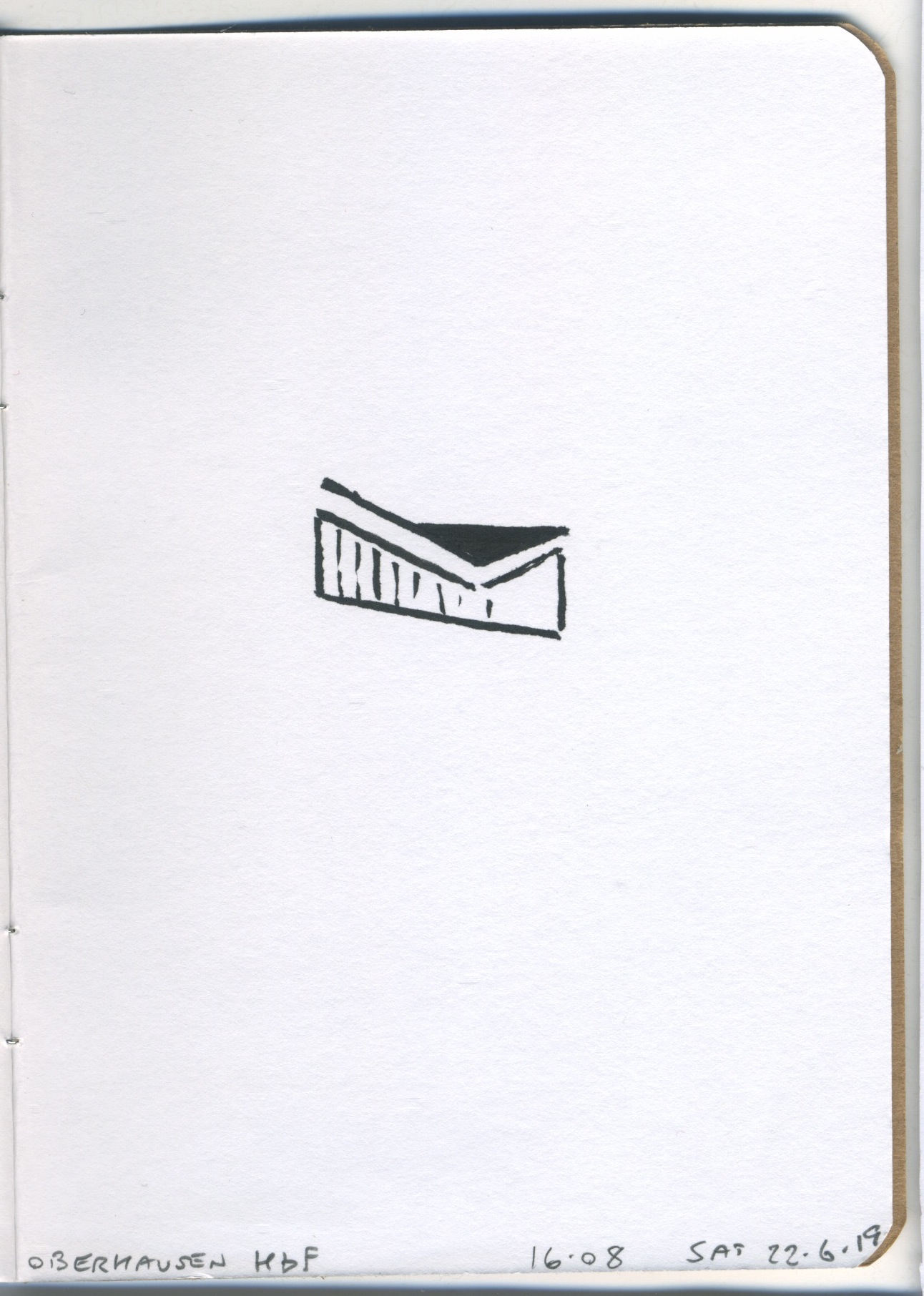 Journey 2: Bellgrove to Newcastle-upon-Tyne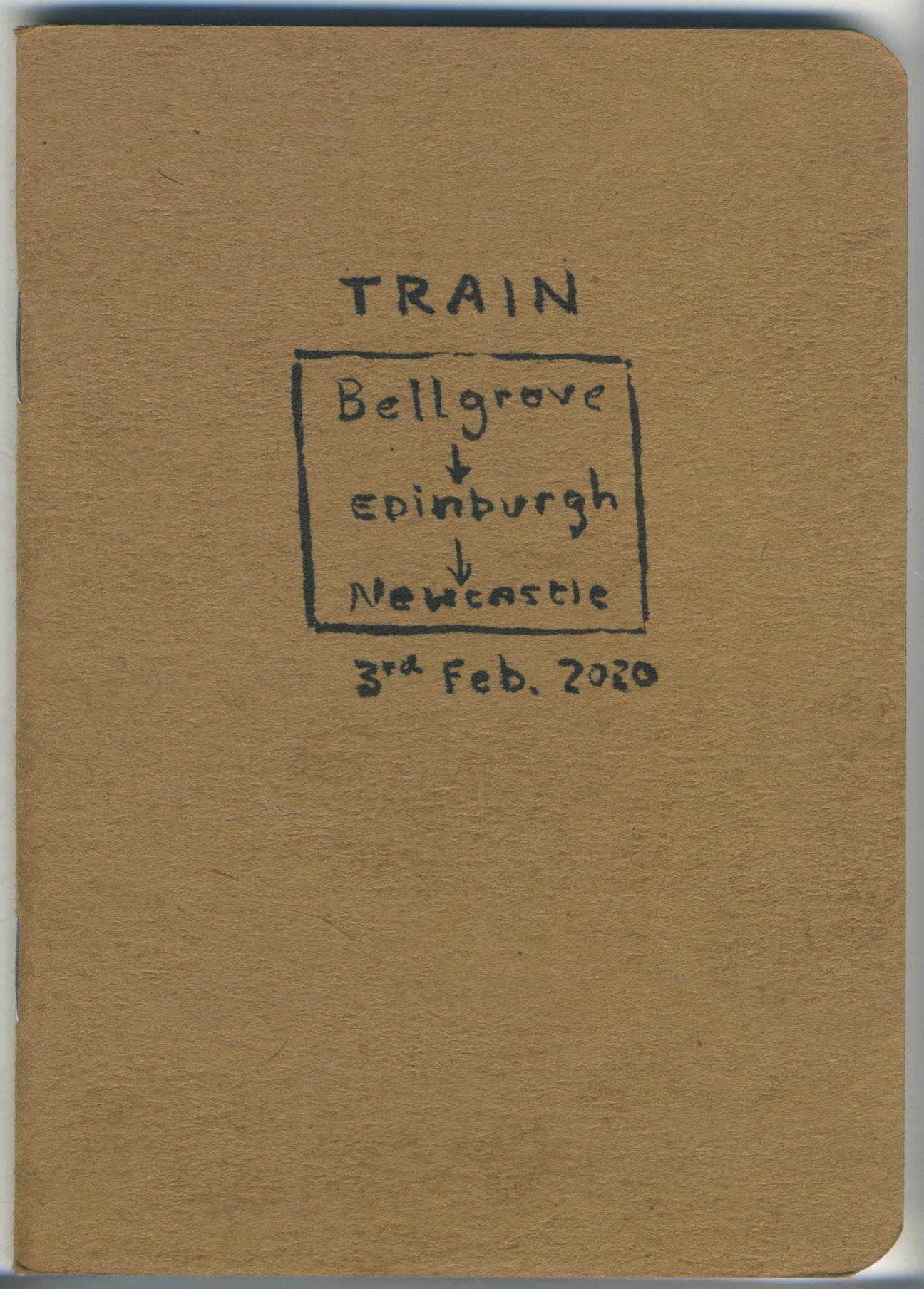 Monday 3.2.20
Train from Bellgrove to Newcastle-upon-Tyne, changing at Edinburgh Waverley.
Notes: "A speedy sketch of each station en route. Drawing only while the train is at a standstill. Ink on A6 paper.
I was well prepared to sketch this rail journey.  Seated at a table with drawing stuff laid out before me (even a spare pen).  After sketching each station I quickly took a photo just as the train began to move off.  I also shot 5 seconds of video out of the window between stations.  There's an idea forming – to later animate the drawings and combine them with the video to make a short film.
Heading to Newcastle to then get a bus to North Shields to catch the overnight ferry to Ijmuiden.  Going to visit pals in Dusseldorf. "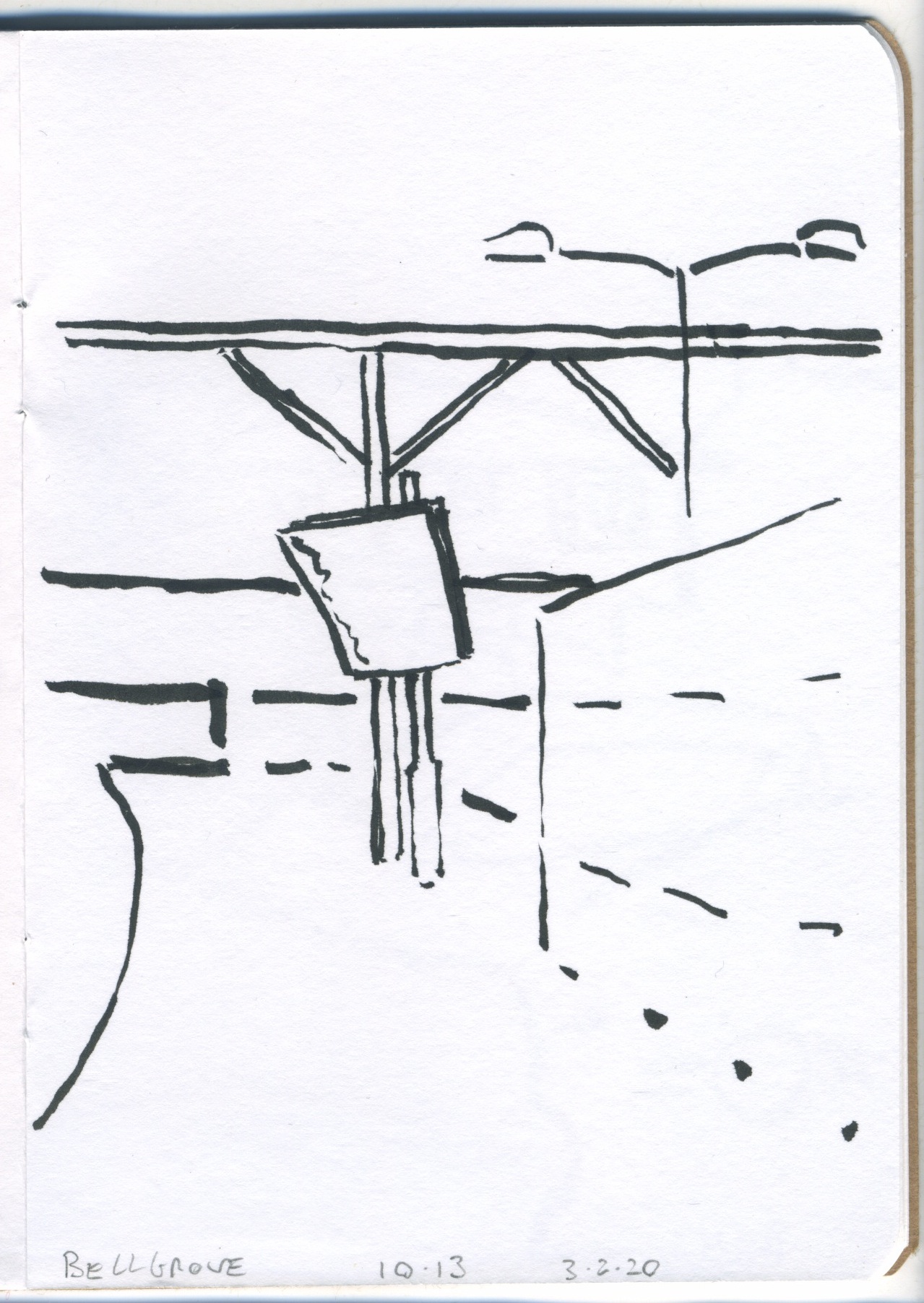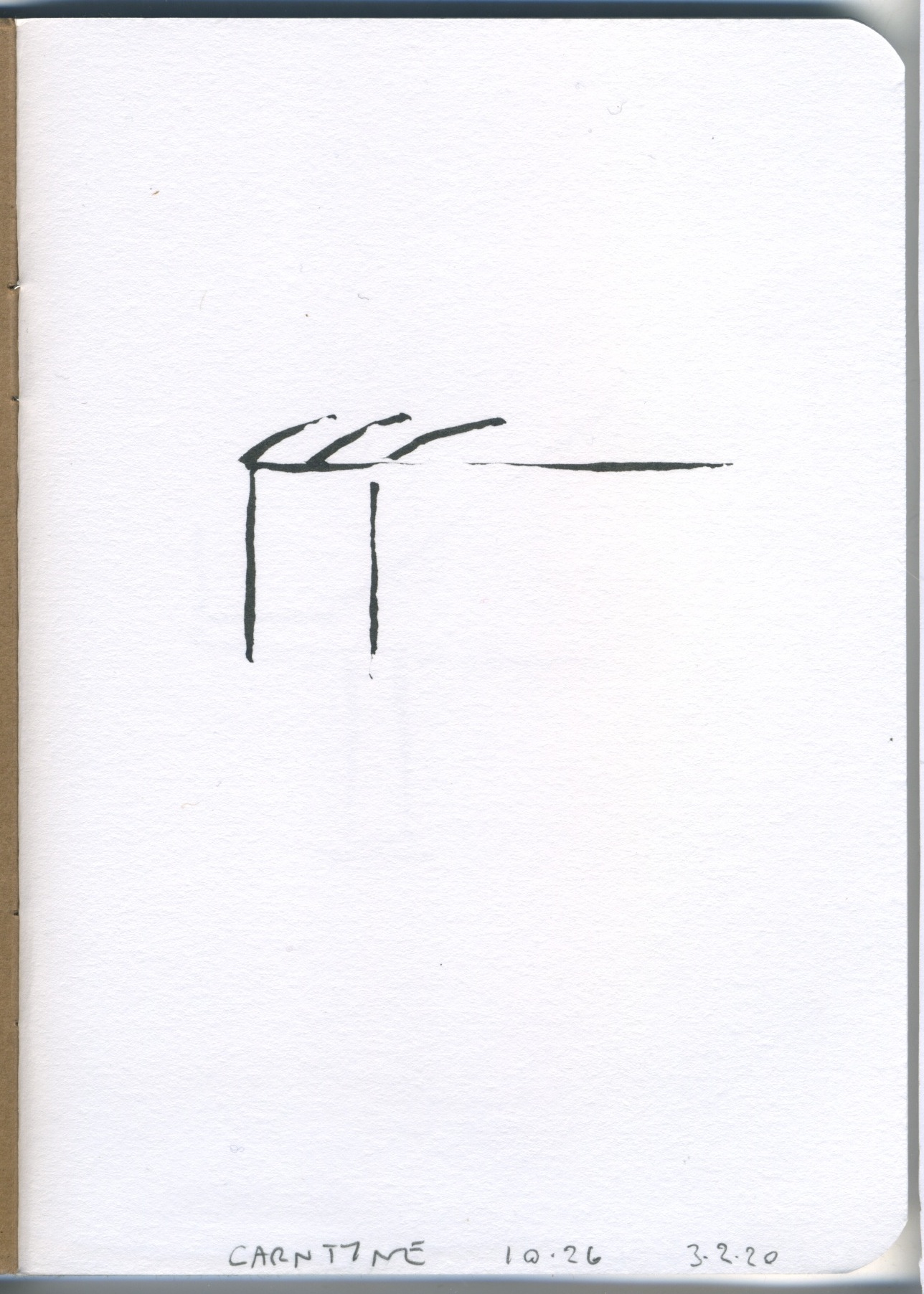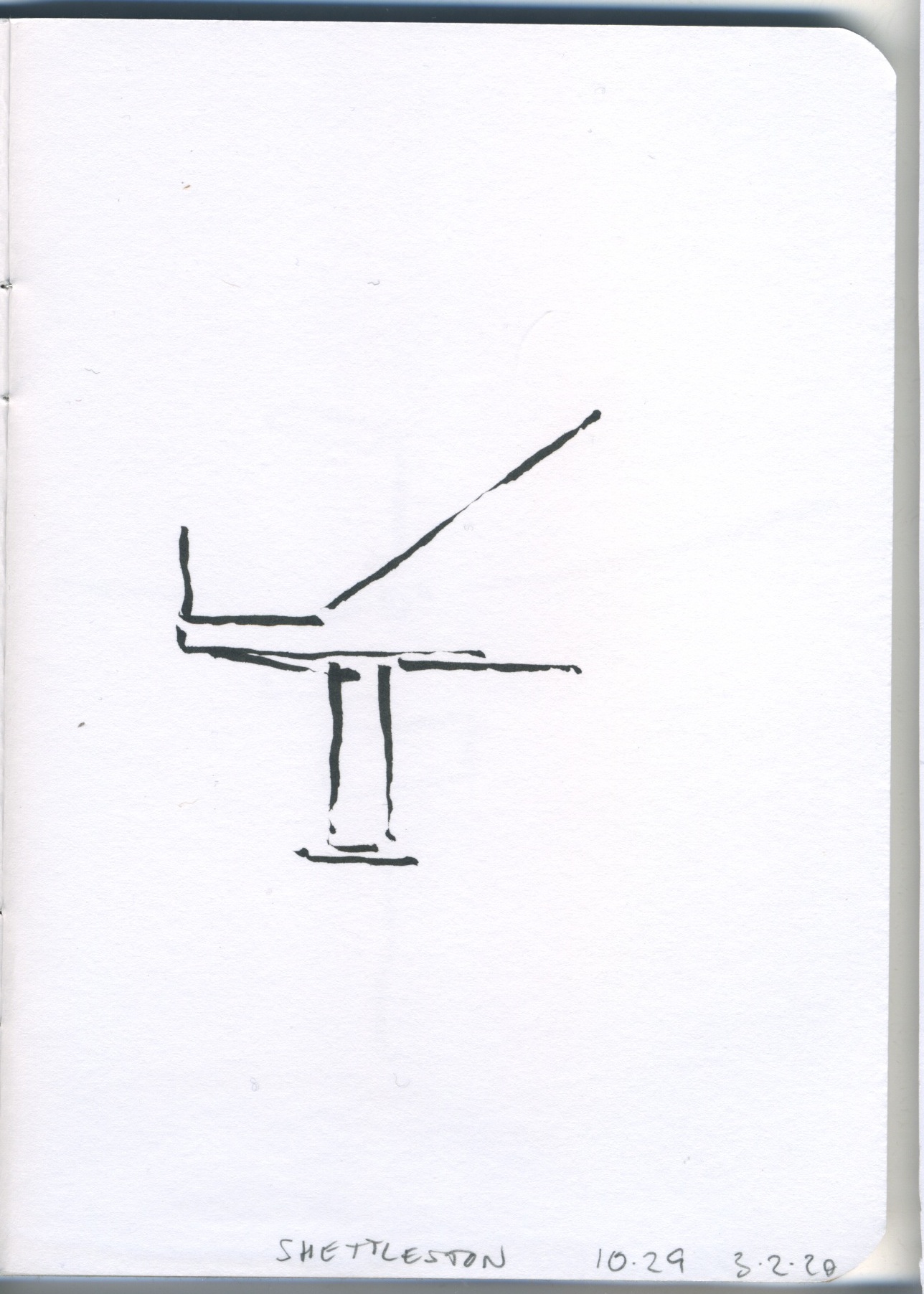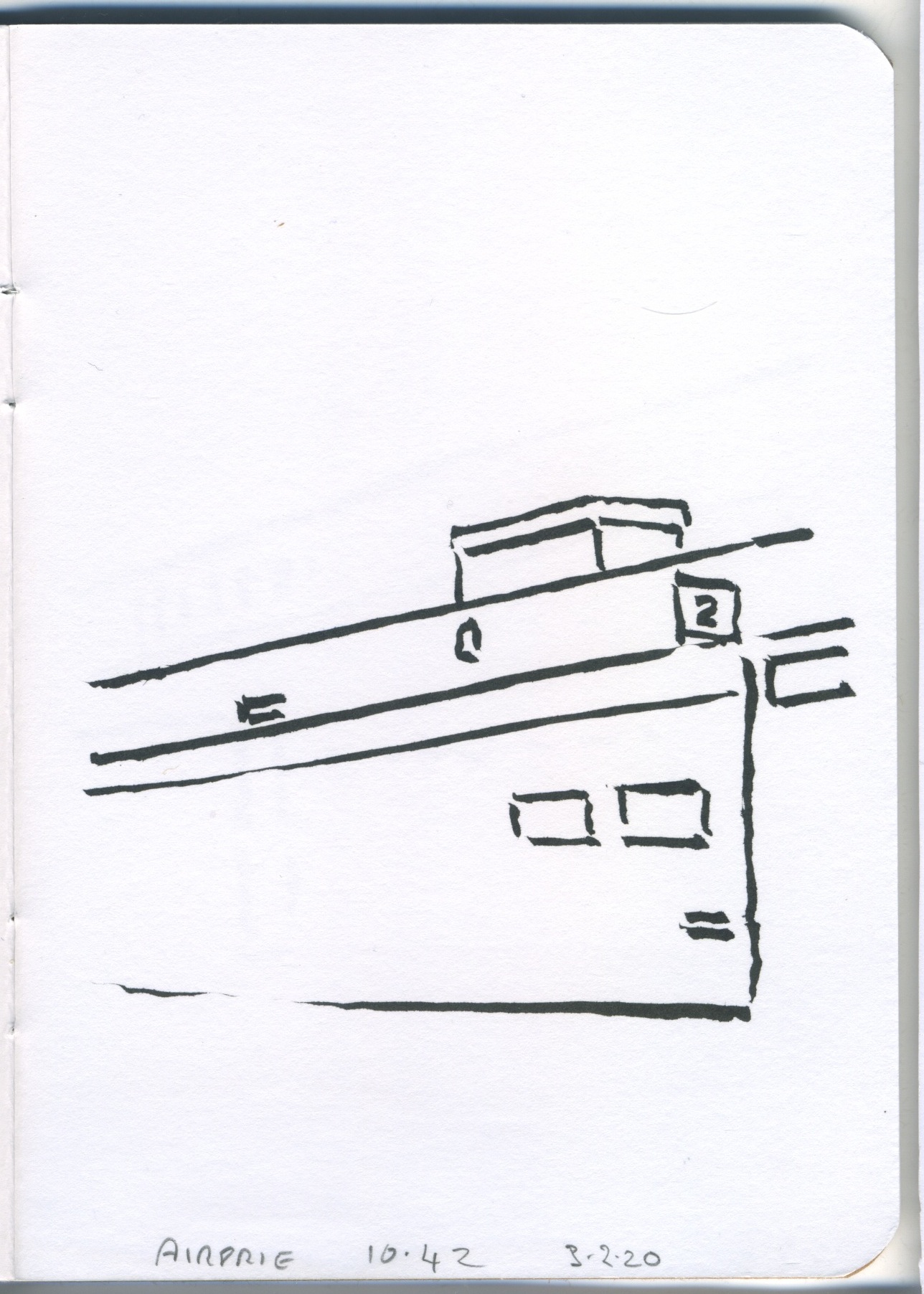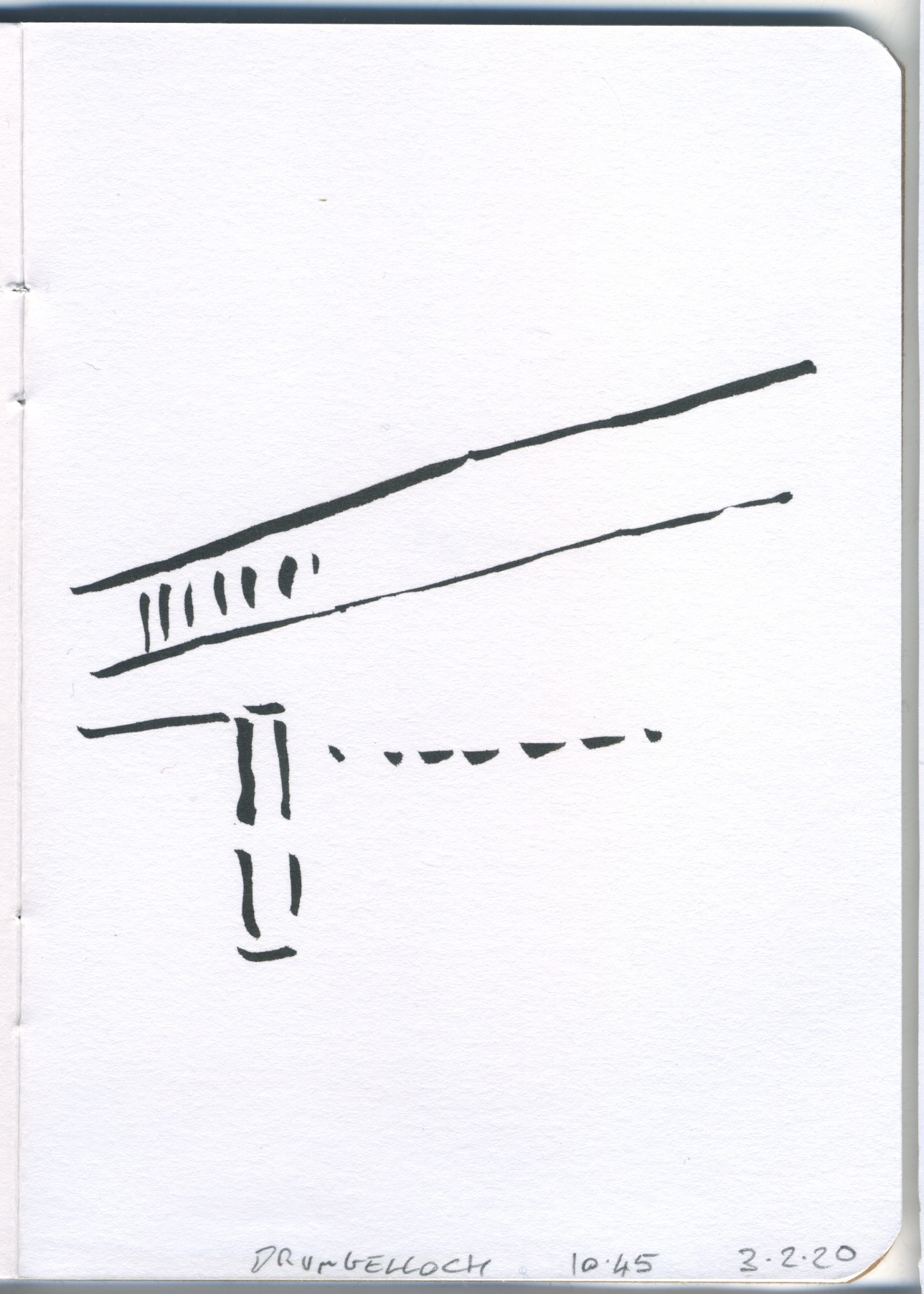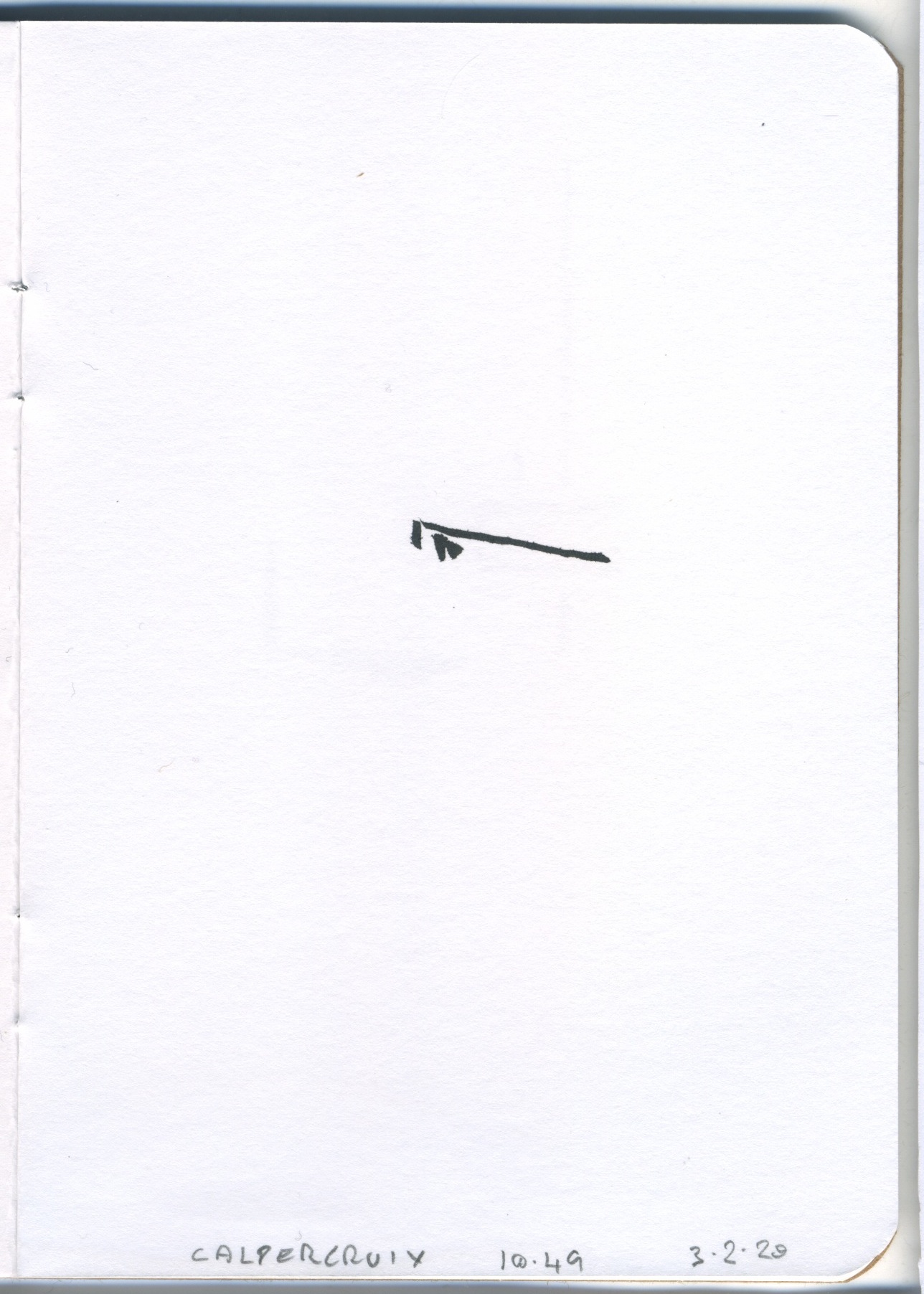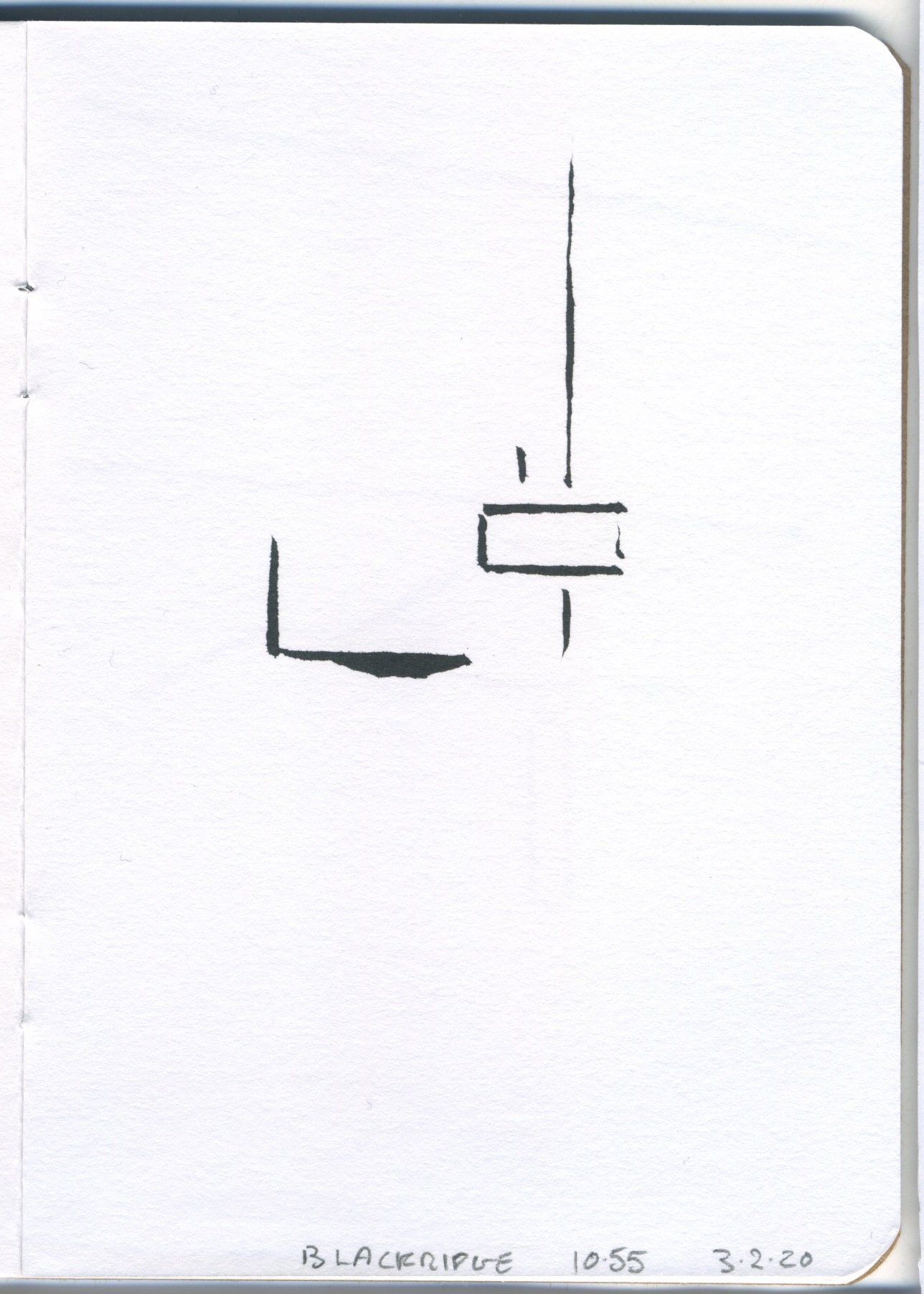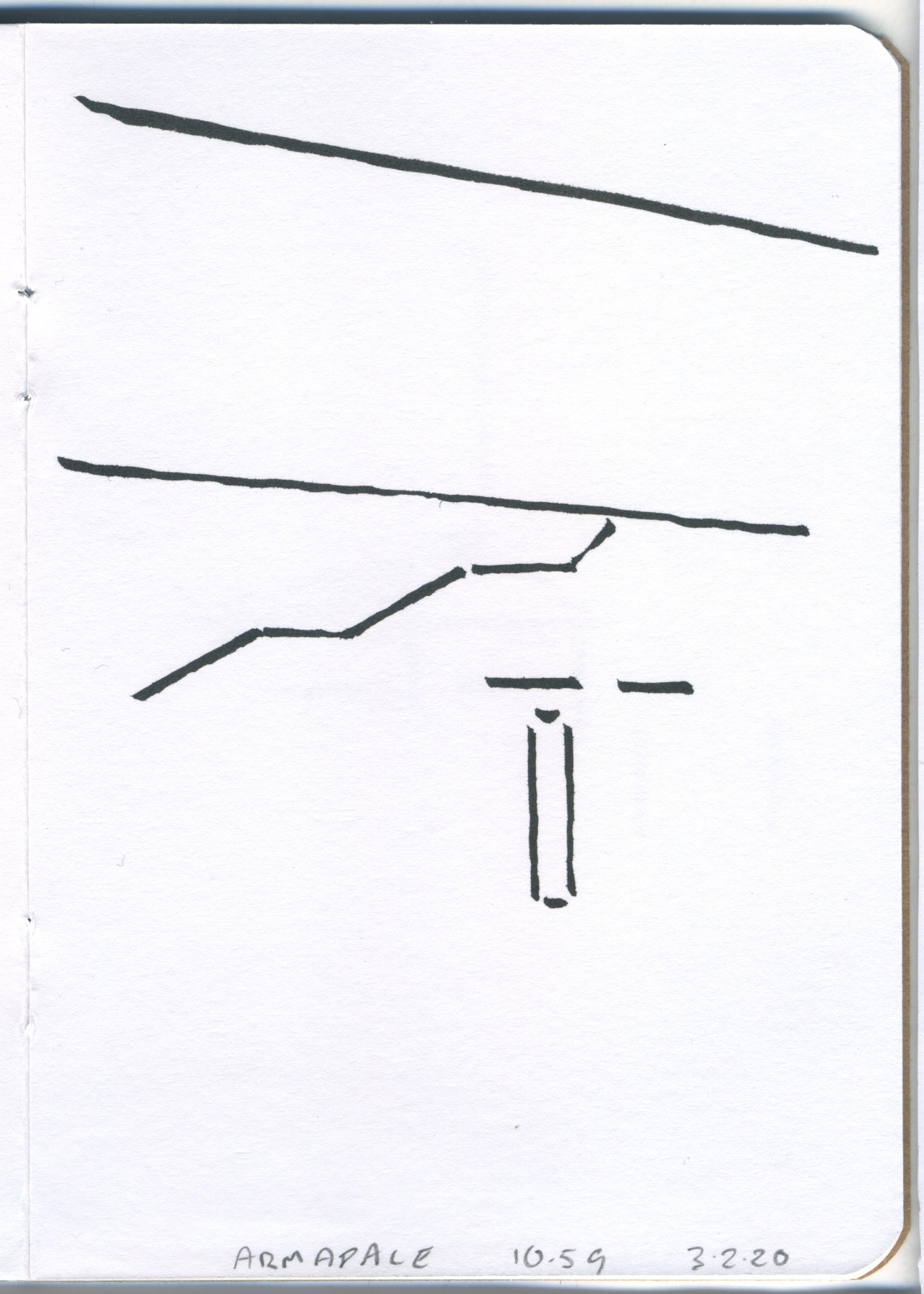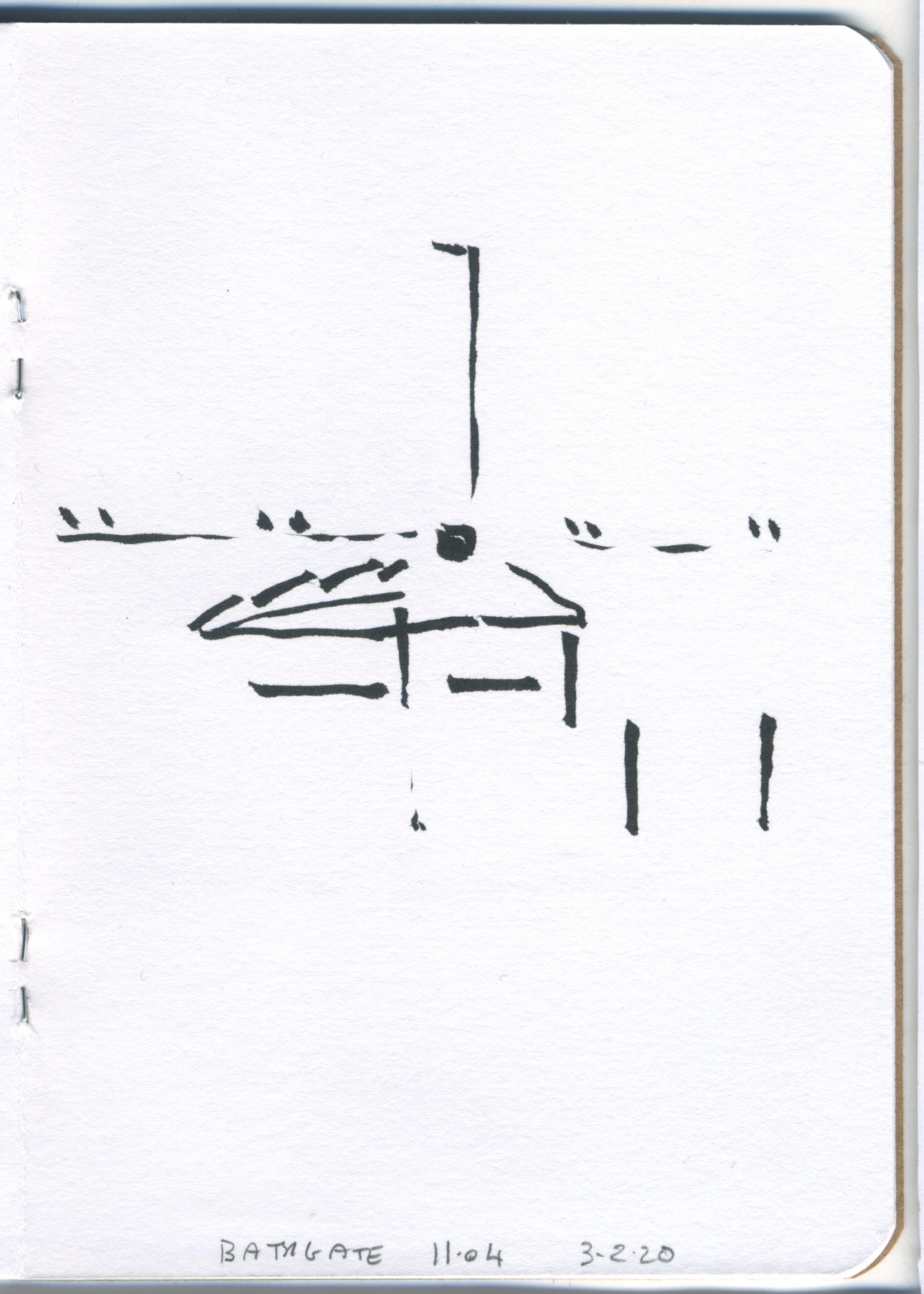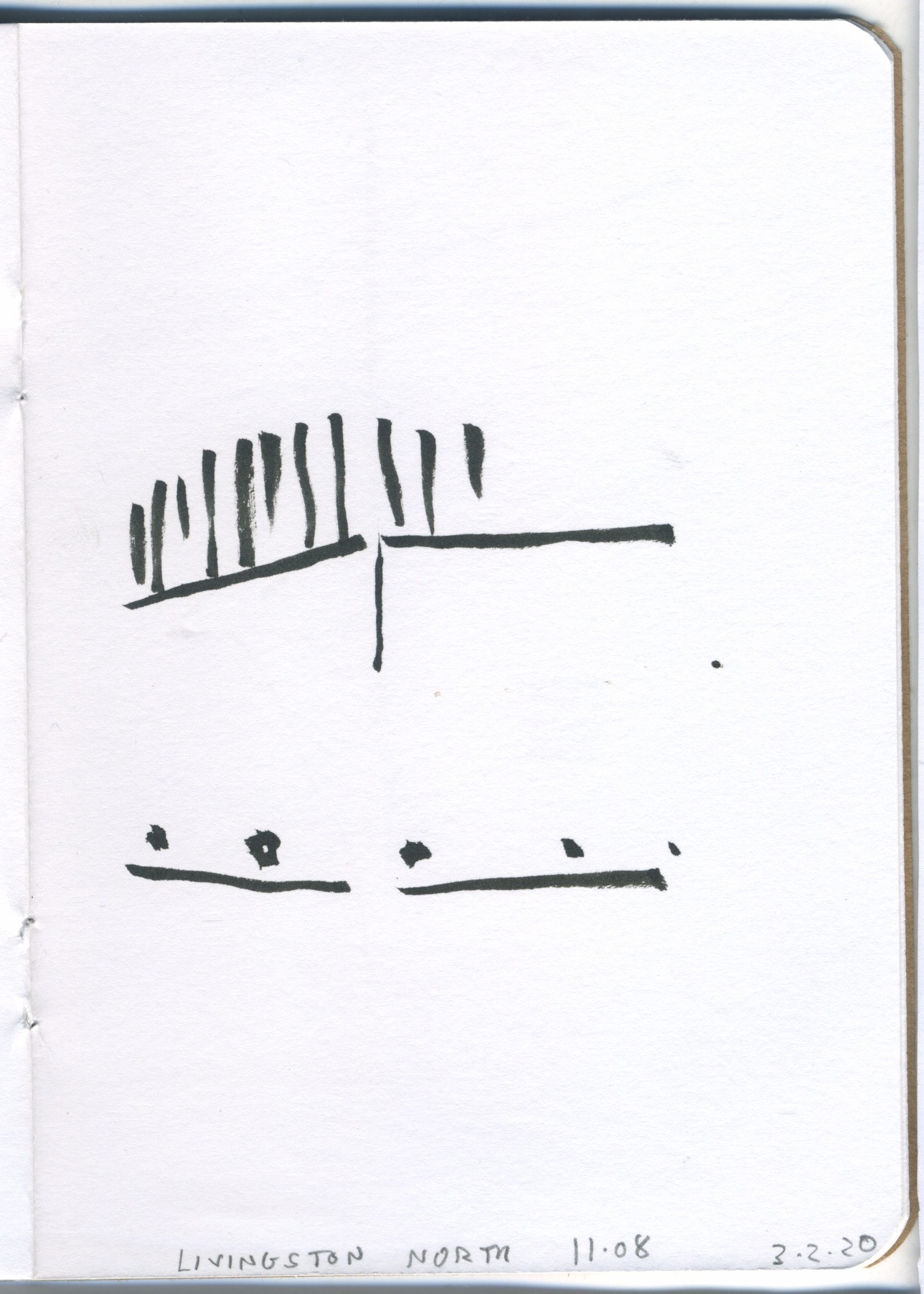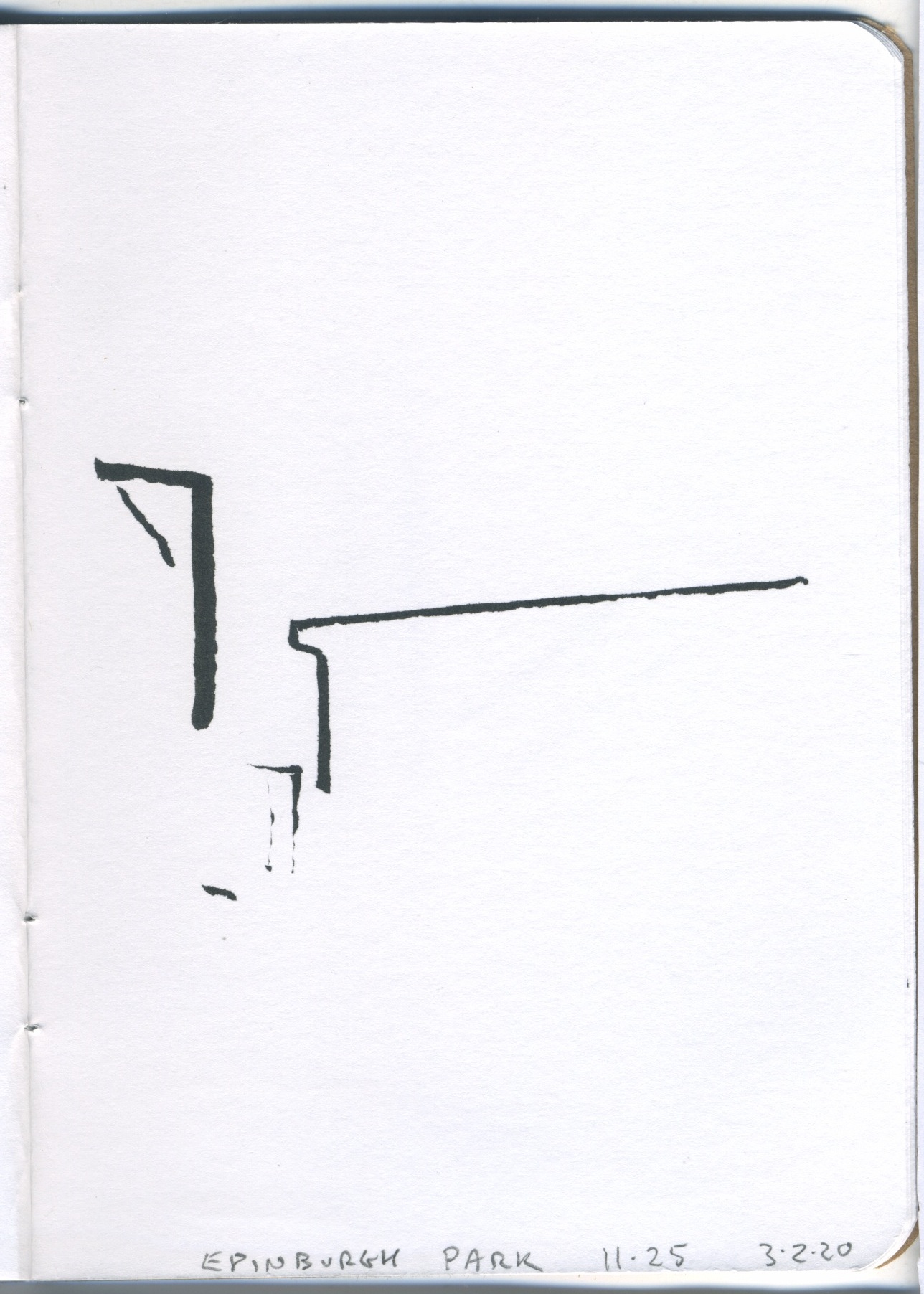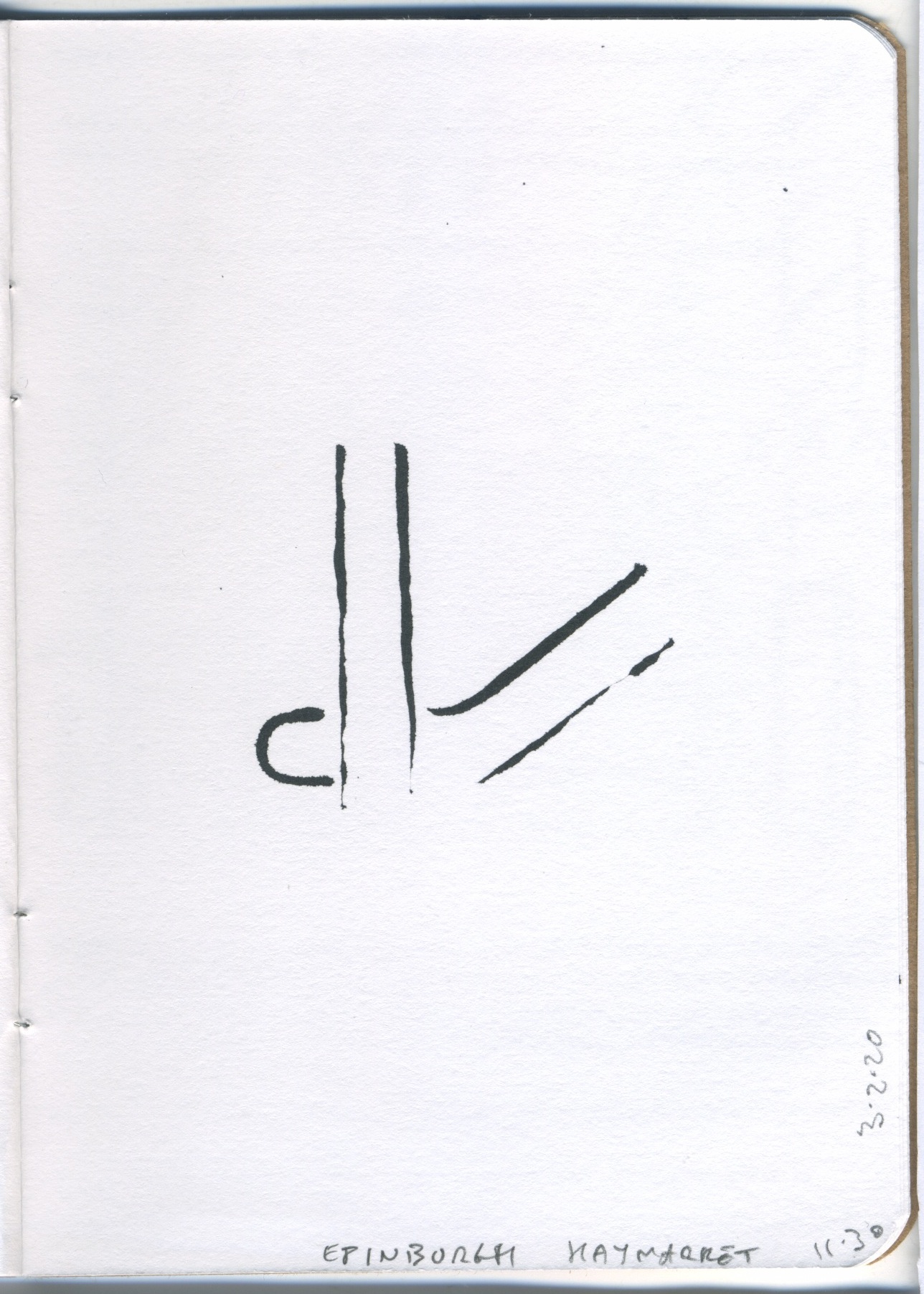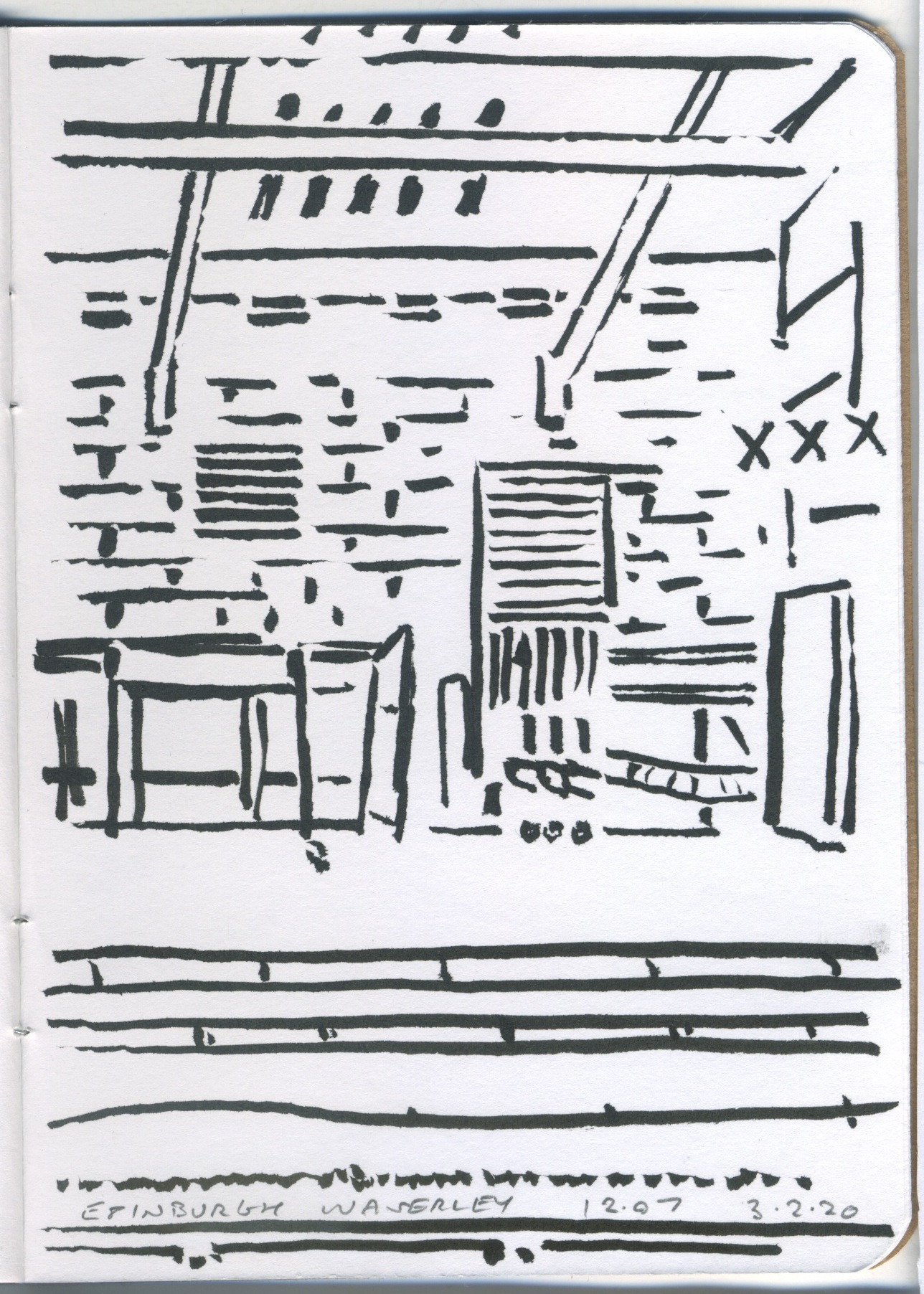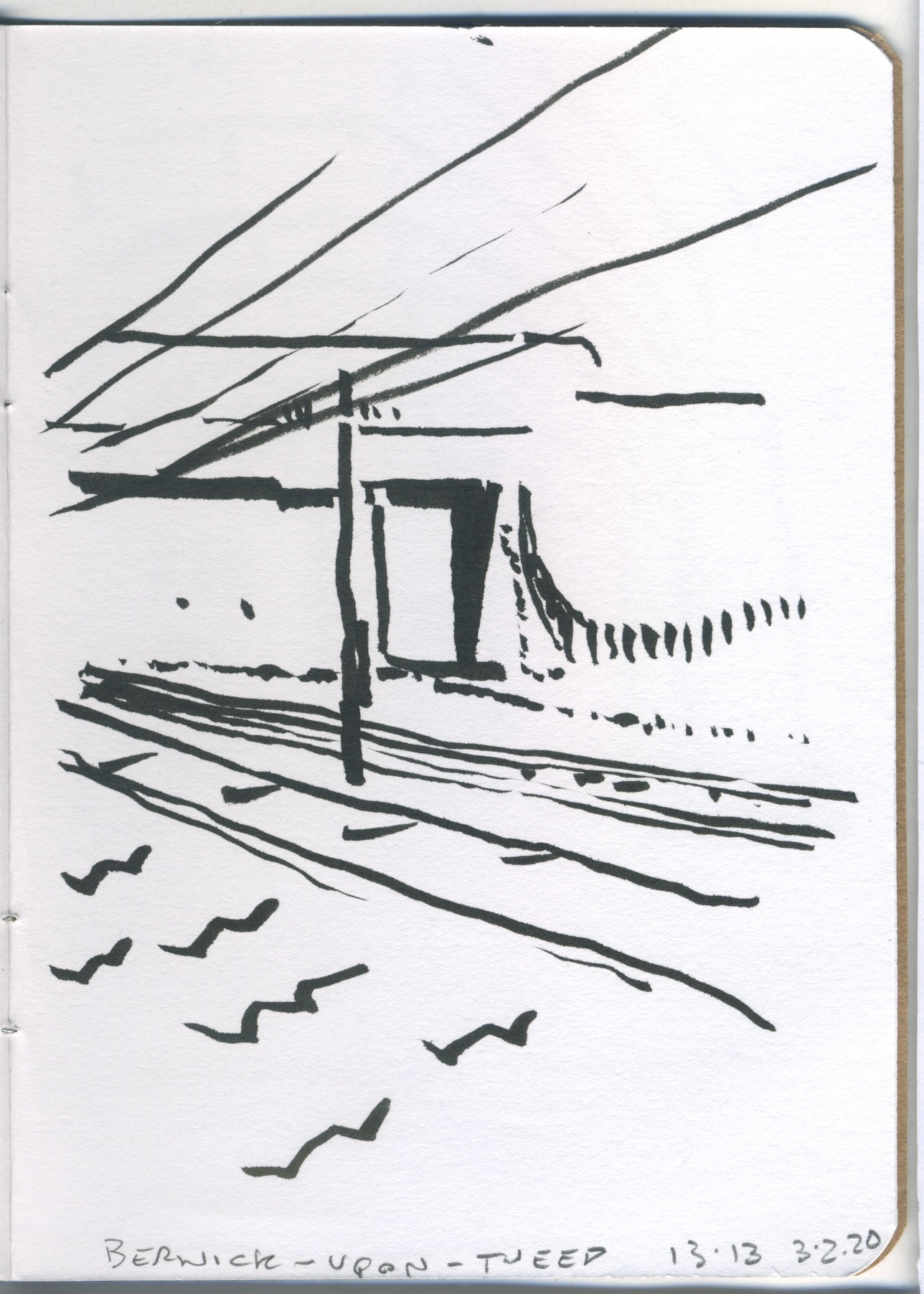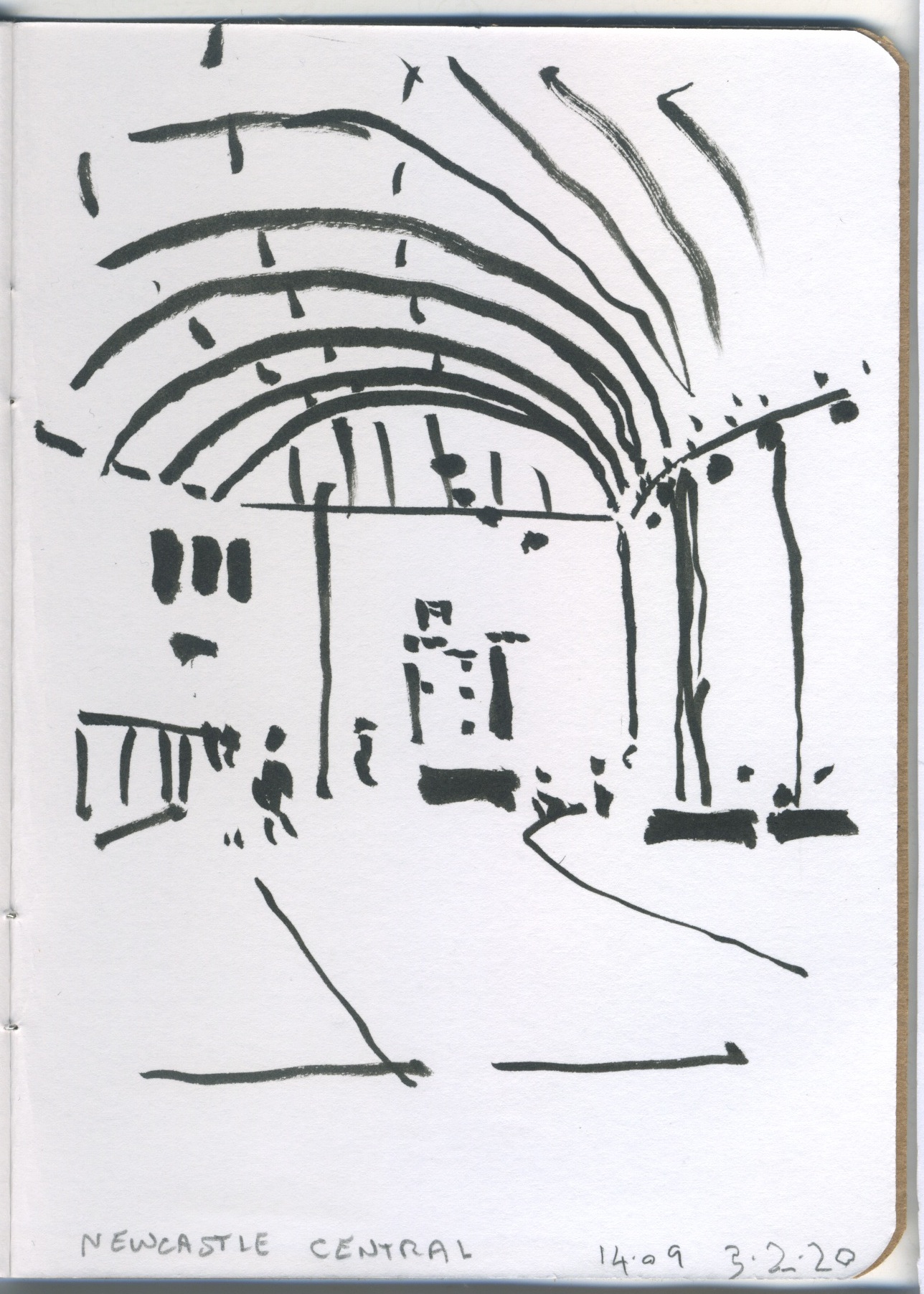 Journey 3: Newcastle-upon-Tyne to Düsseldorf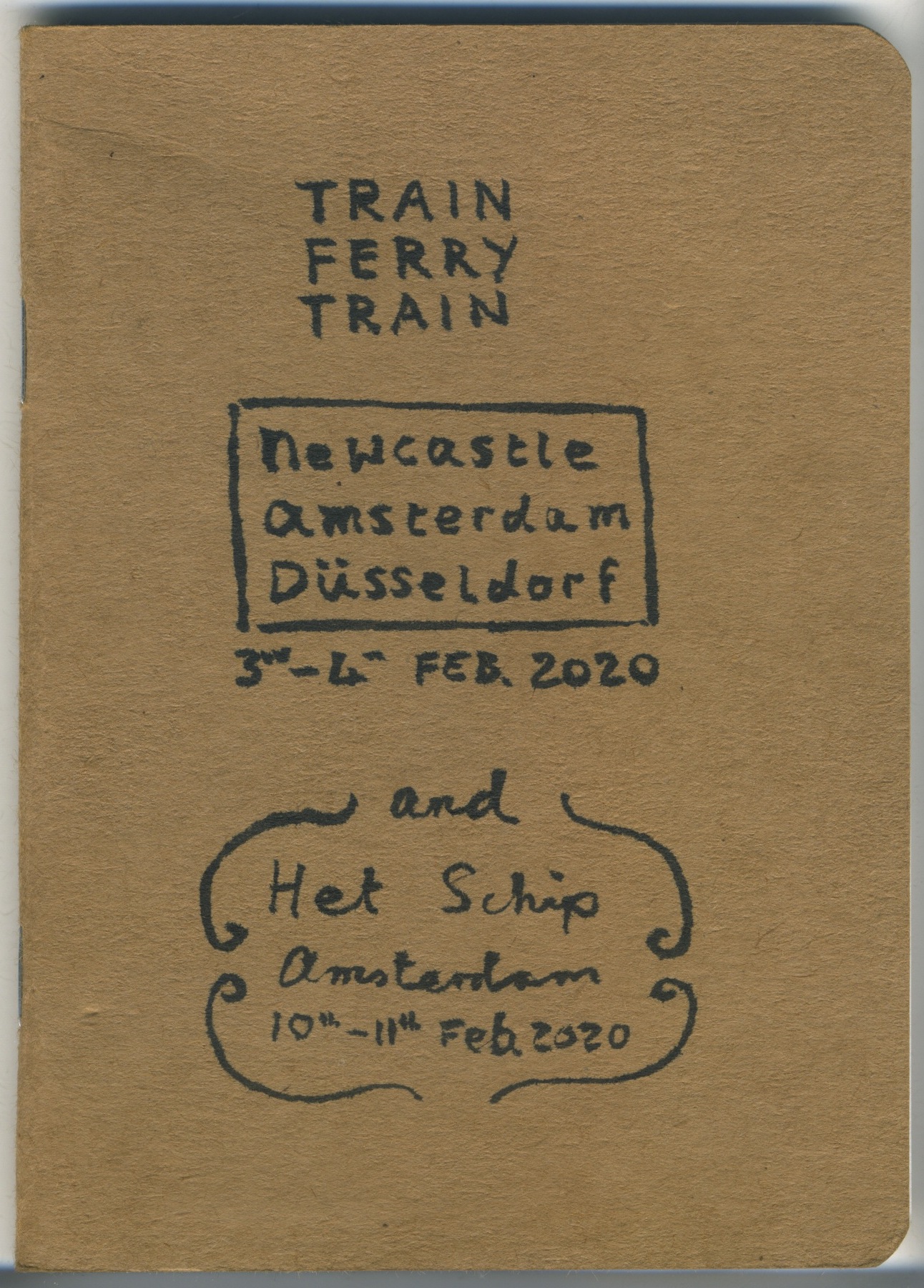 Monday 3.2.20
Newcastle Central Station (having travelled from Bellgrove, via Edinburgh)
Then bus to Royal Quays ferry terminal, North Shields.
Tuesday 4.2.20
Overnight ferry arrives in morning at Ijmuiden.
Bus to Amsterdam.
Train from Amsterdam Centraal to Dusseldorf Hbf.
Notes: "A speedy sketch of each station (and dockside) en route. Drawing only while the train (or ferry) is at a standstill. Ink on A6 paper.
This is my second attempt at sketching the stations between Amsterdam and Dusseldorf – this time I'm well prepared with plenty ink and paper.  However, it turns out that this is the express service and so it only actually stops at a handful of stations – whereas the same trip last June the train stopped at loads of small stations – one every few minutes – but I ran out of pages on that last journey.  Anyway, managed to record the whole trip this time.
I also shot five seconds of video between every station en route from Amsterdam to Dussedlorf, as well as on the Newcastle-Ijmuiden-Amsterdam leg of the journey.
What to do with all this gathered visual information?  I'd been thinking film, animation, maybe book.  Or an exhibition (on line or physical).  I do like the simplicity of these railway station drawings.
I haven't included the Het Schip (Amsterdam) drawings mentioned on the sketchbook cover – these were done about a week later and aren't really part of the same journey as the previous week."